Kate Moss's kiss auctioned for raising charity fund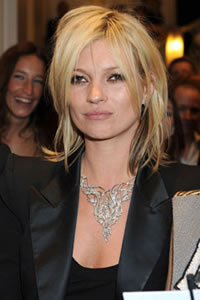 British supermodel Kate Moss auctioned a kiss in aid of Great Ormond Street Hospital and this time it wasn't boyfriend Jamie Hince. As the bidding climbed steadily for the kiss, Kate offered to present the kiss wearing a Police Uniform, which managed to fetch a whopping £5,000(US $7,200). The Garrard Flagship just off Bond Street witnessed the event called Mummy Rocks, which was hosted by new Garrard creative director Stephen Webster. The aim of hosting the event was to raise funds for the hospital equipment and research program, alongside celebrating the role of the mother preceding the Mother's Day.
Among the on looking guests were Orlando Bloom and Sadie Frost on the night that raised £50,000 (US $72,300). Other items put up on auction included an exclusive Stephen Webster 18ct white gold, white diamond and ruby "Mummy Rocks" locket and a lunch with Stephen Fry.
[
Vogue
]