Soil containing blood of Mahatma Gandhi fetches $15,980 at auction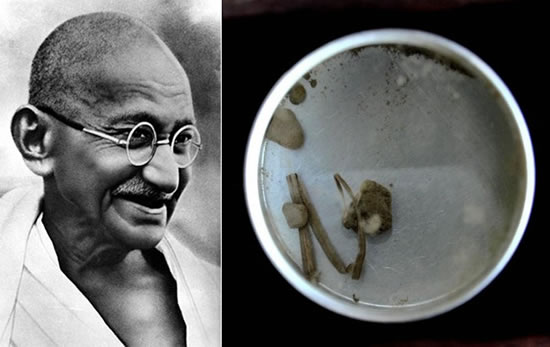 The symbol of peace and the face behind India's non-violent freedom movement, Mahatma Gandhi continues to be the inspiration of many. Counted amongst the most recognized and respected leaders even today, this man has left a legacy that will live for generations to come. The late leader's soaring popularity is visible at various auctions where his memorabilia has fetched countless amounts of money, case in point, the Rolls Royce which seated Gandhi that fetched $705,300! And most recently, the love for this peace loving leader was visible at an auction in UK where small fragment of soil, believed to contain traces of Mahatma Gandhi's blood fetched a whopping £10,000 ($15,980)!
The blood-stained soil, is said to have been taken from the site of his assassination in 1948. It was consigned to the auction by PP Nambiar, who was standing close-by when Gandhi was killed. Nambiar says that the soil "is a treasure of immense sentimental value". Besides the soil, the auction also featured other Gandhi belongings like his spectacles which fetched £34,000 ($54,340) showing double the estimate of £15,000 ($23,980). A wooden spinning wheel known as a "Charka", which Gandhi took with him to London for the second Round Table Conference in 1931, fetched £26,000 ($41,570)while Gandhi's prayer book fetched £10,500 ($16,790).
The auction which was in the headlines with many being against the idea of involving financial transactions with Gandhi's belongings, managed to be a success.
[
PaulFrasier
]