World's most expensive tuna sold for a record $736,000 in Japan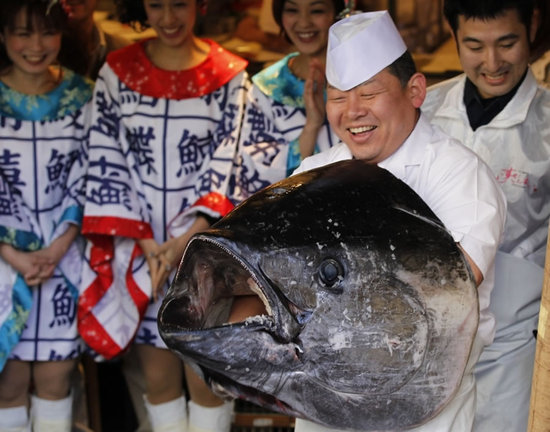 Its a known fact that Japanese love their seafood. So it comes as no surprise that recently a bluefin tuna was sold for a record price. At the first auction of the year in the Tsukiji fish market, the bluefish tuna, a priced delicacy used to make sushi was sold for 56.49 m yen which is US$736,000. It is almost double the price of the bluefin tuna that broke the record last year at $400,000. Mr. Kiyoshi Kimura a shushi restauranteur bought the pricy tuna. The tuna which weight around 593 lb was caught near the Aomori Prefecture which was one of the areas devastated by last year Tsunami.
In his statement Mr. Kimura told the reporters that he wanted to keep the tuna in Japan rather than let it get taken overseas. Japan consume about 80% of seafood annually and the first auction in January usually is where the record prices are set.
[
Images
] And [
Video
]
[
MSNBC
]