An all glass house offers spectacular views

People who live in glass houses shouldn't throw stones. One should also note that people who live in glass houses should give up any and all hopes of privacy and be ready to shell out over $600,000 to get a 3-bedroom house designed by Italian maestro, Carlo Santambrogio. Alexander Frangoul from Germany had designed a similar house but only the walls were made of glass. However, almost every aspect of this house is made of glass, from the dining table, to the stairs. The home, which is available from the architect's London Portland Street showroom, was designed after a client requested it and is entirely made of glass, even the staircase.
Showcasing Santambrogio's latest glass furniture range, Simplicity, the glass house design stands with 7mm walls, which can specially heated to shield occupants from the elements. So if you have the funds, a glass designer and an architect, Santambrogio is willing to design the dream glass house that you always wanted. Our suggestion – try to find a secluded spot while building this home.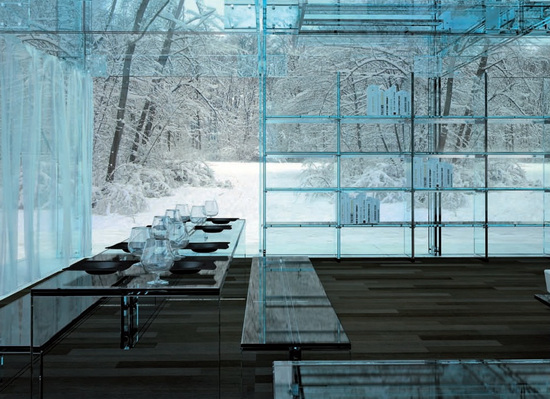 [
Santambrogiomilano
and
Geekologie
]