Su Bach luxury Baby Cocoons to wrap your newborn in style

Mothers of new-borns can look forward to add an element of luxury to their little darlings. We are not saying that babies yearn for that sort of thing, but parents who can afford it may delight in it. London-based brand Su Bach specializing in babywear recently unveiled their new line of Baby Bach Cocoons. These cocoons are one-of-a-kind baby wraps that are handcrafted with top of the line fabrics such as organic cotton, French lace and Italian silk. While the appearance exudes luxury, this cocoons also functions as a diaper mat which in turn is lined with GOTS-certified organic cotton sateen sheets with padded cushions. The cushions are removable in case it is in need of a good washing.
Aesthetically it is made beautiful with Su Bach signature SB logo embroidered on the bow. If you want to customize this cocoons then Su Bach also offers Bespoke options with your choice of fabrics, accessories, colors and monogrammed initials. The pricing for the Bespoke cocoons starts at around £350 ($550) while the regular ones retail at £220 – £290 ($350 – $455) depending on their design.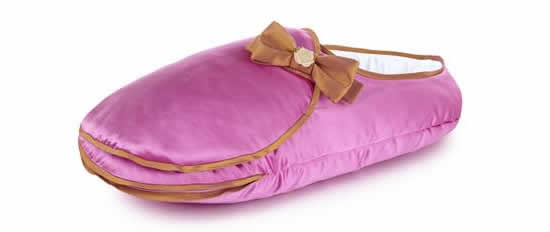 [
Subach
]