Swarovski studded Xbox 360 Kinect to play a bling game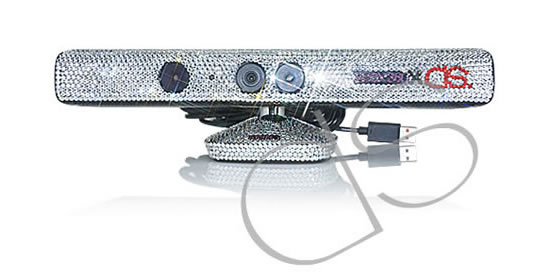 If you love playing outdoor games but either don't have the time and space or if you wish to avoid the paparazzi, you can play on motion sensor devices like a Nintendo Wii or a Kinect. And while you can add opulence to your gamming experience with a gold-plated, diamond-studded or Swarovski-encrusted Wii, you can now opt for a Swarovski-adorned version of the Kinect as well. This glittering Kinect sensor is adorned with as many as 5,000 genuine Swarovski crystals. So if you don't really feel like heading to a discotheque, dancing games like 'Kinect Dance', will give you the fell of the real thing.
Apart from the Swarovski elements, the
$631.66
priced Kinect features a color VGA Motion Camera with a 640×480 pixel resolution at 30FPS. It also comes with a 4 microphones for voice recognition support.