Emirates Palace -The world's costliest hotel at $3.8 billion
By Dhiram |
on October 31, 2006 3:09 am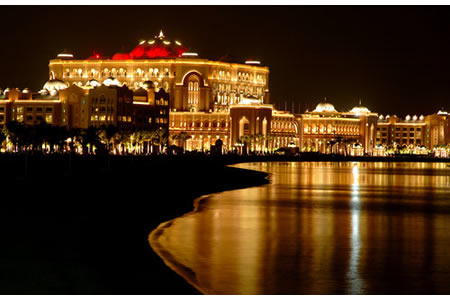 Fancy bathing in champagne, sleeping between scented sheets and cooling off round the pool with the help of hotel staff armed with water sprays? Everyone will be treated like royalty; after all, they are at the Palace. Costing a rumored $3.8 billion (£2 billion), the Emirates Palace is the most expensive hotel ever built. Its owner, the government of Abu Dhabi, knows that the Palace will never make a profit. But that doesn't matter as the idea was to impress the world by creating the most lavish seven-star experience conceivable. Here's an exclusive sneak preview to find out what on earth they spent all that money on. It is a colossus- the architects describe it as the Taj Mahal of the Middle East, though its dusky-pink granite and rose-colored marble facade, delicate Arabic carvings, endless domes and scalloped arches are much more in keeping with Granada's magnificent Alhambra. Just to walk around the place would take almost an hour.

The Emirates Palace has so many biggest and best boasts, it could have its own chapter in the Guinness Book of Records, but the atrium is the whistles and bells as the jaw-dropping 60 metres high, 42 metres wide is topped with the largest dome in the world. It is decorated with lots and lots and lots of gold- 6,040 square meters of gold leaf covers the largest gilded expanse ever created in one building. Though it boasts of the tag of the world's costliest hotel ever built, surprisingly it doesn't feature in our earlier write-up of
the worlds 10 most expensive hotel rooms
! It houses six Rulers' Suites, strictly out of bounds unless you are part of a ruling family from one of the Gulf Co-operation Council members and another 16 Palace Suites are among the most expensive in the world at £8,000 ($15,200) a night. For the lesser souls there are 40 Khaleej Suites and 302 Grand Rooms to choose from £950 ($1,805) pp a week. Even the cheapest rooms have 125cm plasma televisions, butler service and a bath concierge to prepare a flower-strewn, oil-scented bath for you on arrival. After the initial dazzle, the interior is not nearly as lurid as the Burj Al Arab's. The exterior of Dubai's premier tourist address is breathtakingly elegant; inside, it divides opinion sharply though!