Hilton woos Chinese travelers with limited-edition slippers by Vivienne Tam
By kamakshi |
on August 13, 2012 4:52 am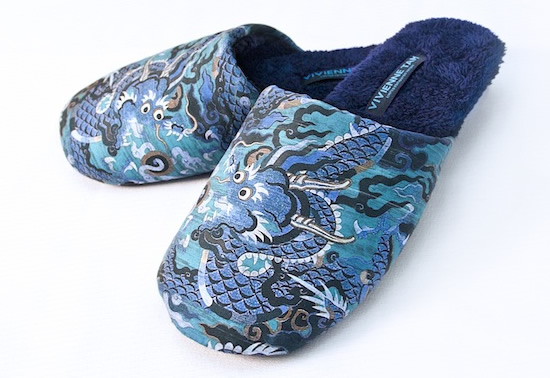 As the Chinese athletes bagged the second highest number of gold medals at the London 2012 Olympics, the entire nation would be in the celebration mode. And if you want to be a part of the celebration, picking up a pair of limited-edition slippers from designer Vivienne Tam won't be such a bad thing to add to your list of accessories. In a bid to woo its Chinese client base, Hilton Hotels has brought out special limited-edition pair of "Water Dragon" slippers. Up for grabs for just a month, you need to be a part of the Hilton Huanying program, which covers 70 participating hotels in 23.
If you are not staying at any hotels for now though, these stunning shoes will be on sale for $28 on
www.hiltontohome.com
till stocks last. The slippers sport "a mirrored design of two intricate inward-facing blue dragons swimming in a turquoise "sea" – a common symbol of optimism, harmony and fulfillment in Chinese culture" in hues of blue. Available in a men's and a women's size the footwear has been made using soft terry cloth, with cushioning at the toe and a textured sole.
Those on twitter can follow @HiltonHotels as they are holding a slipper giveaway on the microblogging service as well as on Weibo (Twitter-like service for China.)
[
Hotelchatter
]