230 year old Veuve Clicquot champagne is touted to be the oldest champagne still drinkable in the world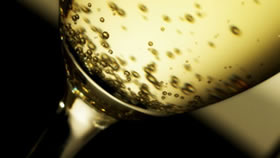 The deep blue waters are known to hide a lot of treasures. Among those recently unearthed, are 30 bottles of champagne! Rumored to be produced over 230 years ago, these bottles were recovered from the depths of the Baltic Sea. These vintage wines were discovered by divers from Helinski who found them perfectly preserved at a depth of 180ft near the remains of a sailing vessel. According to the divers, the handmade bottle bore no label, while the cork said "Juclar", from its origin in Andorra. The champagnes are believed to be from the famed house of Veuve Clicquot, and were possibly part of a consignment sent by France's King Louis XVI to the Russian Imperial Court. A sample of the champagne has been sent to Moet & Chandon for their analysis. In fact they are 98% sure its Veuve Clicquot as they are the only ones to use the sign of an anchor on the cork. If confirmed, this champagne will become the oldest champagne still drinkable in the world.
Aaland wine expert Ella Gruessner Cromwell-Morgan, who was lucky enough to taste the wine, said it has not lost its fizz and is absolutely fabulous. The ideal conditions of cold and darkness of the sea bed have helped to preserve this wine.
I can just imagine the price these bottles will fetch once their date is confirmed.
[
Sky
]