Blood to Black Diamond Lamborghini LP 640 costs $740,000

Lamborghini LP640 is one of the best looking, most powerful and amazingly luxurious sports cars to be launched recently. The base model is quite impressive and ranks amongst the best in the world in terms of speed and power. Understanding the importance of this model, JB design has upgraded the Lamborghini LP640 to make it look like a killer vehicle, literally. The new customized Lamborghini LP640 comes with a mess of carbon fiber, a "Blood to Black Diamond" paint job, dark red ultrasuede interior and a look that you can't easily forget.
You could also upgrade the Lamborghini LP640 to either 710 or 750 HP. The name of the upgraded car may have been inspired by the movie Blood Diamond, and the car does look fit enough to be cast in a Hollywood movie. The demonstration car costs $525,000 but if you would like to get a new one with all the customizations done from the scratch, it would cost you almost $740,000! Considering the price of
Lamborghini Reventón Roadster
which was close to $1.6 million, The LP 640 JB-R is quite affordable indeed.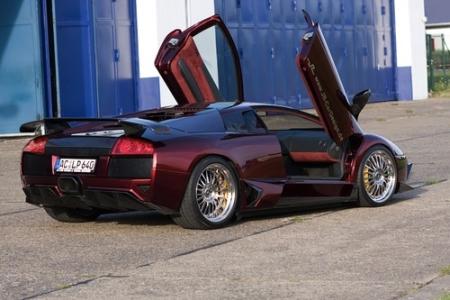 Via:
Jalopnik