Chocolate covered Porsche 911 Carrera S: For every chocoholic car enthusiast

A luxury car enthusiast who has a weakness for chocolates is definitely going to find this post simply delectable. While preparing for the coming holiday season, a Porsche dealer in The Netherlands came up with the crazy idea of covering a spanking-new 911 Carrera S in milk-chocolate. An irresistible combination for every chocoholic car enthusiast, the car was carefully wrapped in plastic before it was dressed with chocolate. According to Porsche Centrum Gelderland the pastry chef in charge used around 175 kilos (about 386 pounds) of milk chocolate for the body along with a few kilos of white chocolate for the lights and trim. The car will be on display till the year end. To make sure the chocolate doesn't melt, the temperature of the showroom will be maintained and kept under 27 degree Celsius.
This unique display is sure to attract all with a 'sweet tooth'.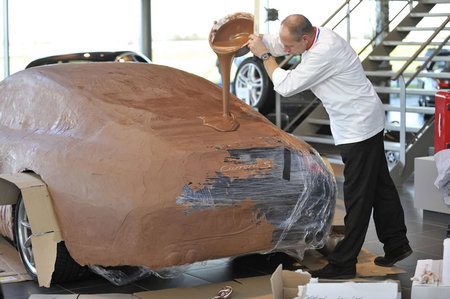 Via – [
Newlaunches
]