Marc Newson teams up with Riva to create the $1.5million 1960's inspired mini-yacht

Renowned Australian designer, Marc Newson has decided to lend his design touch to a power boat. And the company to reap the rewards of the designer's artistic rendition is Italian company Riva. The designers offering is a unique 1960's inspired vessel complete with a fake mahogany deck and loud turquoise accents. Newson's aim while designing this power boat was to Newson's intent was to capture and update the glamour of Riva's mid-century boats. Newson's model has a sleek Micarta deck (the fake wood) and instead of traditional chrome, hooks and handles are made of anodized aluminum. But just because there is fake wood, don't expect the price of this high end designer power boat to be cheap. All set to set you back by a cool $1.5million, this powerful mini-yacht is for the select few people of power only.
A limited edition offering, this mini-yacht will be sold through New York's Gagosian Gallery this fall.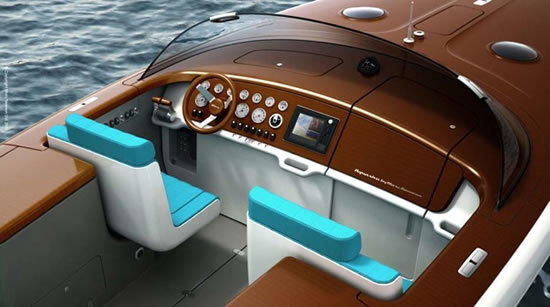 [
Fastcompany
]