World's tallest observation wheel will rise up in Moscow
By shalu |
on November 28, 2011 8:32 am

Moscow is looking to draw tourists into the city with plans for the tallest observation wheel in the world. After all if the London Eye can garner that much interest, this structure should attract more visitors to the Russian capital. Standing over 722 feet tall, tentatively called Moscow View Ferris wheel, it is expected to top the 541 foot Singapore Flyer, the current record holder, and the 443 foot London Eye. The wheel will also have a visually distinct spokeless design, with passenger cabins that move along a rail system. The Ferris Wheel is being designed by US-based architecture firm Gensler and will be part of a larger complex with restaurants, shopping, galleries, and theaters in the base, that is expected to cost over $300 million.
The venue for this new attraction is yet to be decided, though possible locations include the Circus on Vernadsky Avenue and the OCE in Gorky Park.
We never heard back on the proposed "tallest Ferris Wheel" that were scheduled to come up in
China
and
Las Vegas
, we'll just have to wait and see how this shapes up.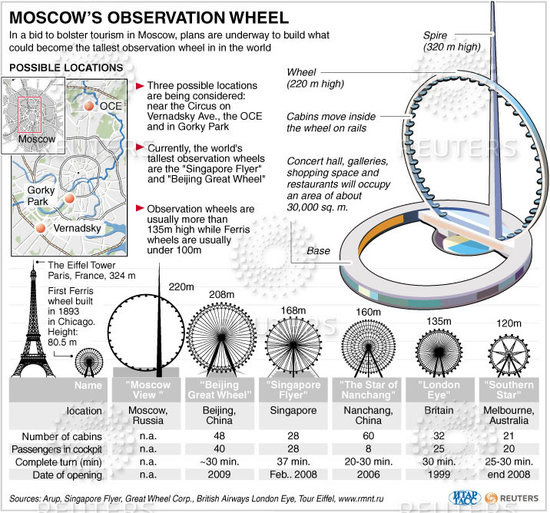 [
Thomson Reuters
] And [
Gizmodo
]