After taking 13 years to build, we present to you the priciest dollhouse in the world! With a staggering price tag of $8.5 million, we're convinced it's a dollhouse far from ordinary. Marking its debut in the public this month, the hand-crafted 'Astolat Dollhouse Castle' was created by Colorado-based miniature artist Elaine Diehl back in the 1980s

Well, trust me when I tell you this is an exceptional piece. Craftsmen have been flown down from across the globe to fashion 10,000 interior pieces, which were combined with furniture and decorations from antique dolls' houses. The 29-room house will be exhibited to the public for the first time to benefit the Autism Speaks non-profit and a selection of other children's charities.


Inspired by Tennyson's Lady of Shallot, this exotic bear rug is one of the beautiful pieces to adorn the dollhouse.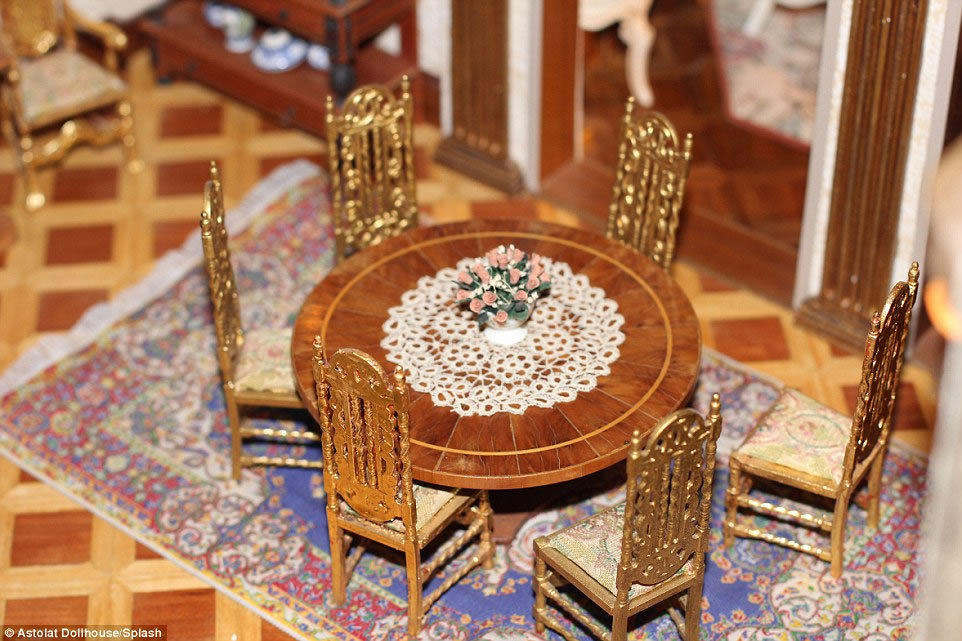 An expert team of goldsmiths, carpenters, glass blowers and silversmiths were commissioned to create detailed furniture pieces, just like these tiny gold leaf chairs which surround the elegant wooden table.


The four storey-29 room doll house has a unique structure, detailed to the very last. With a fine staircase and an elaborate porch, the piece is a work of finesse.


A distinctive piece stands in the porch area.


The detailing has definitely been taken to new levels! Each petal and leaf has been finely crafted and fashioned by hand.


There is a minute Bible from 1811 valued in the thousands and an adorable signed drop leaf secretary desk valued at over $5,000


Minute red crystals adorn the desk while a fine frame entailing tiny stones stands right behind it.


Valued at $1,840, the gold-plated portrait was painted with a single brush


A grand wooden piano finds its place amongst shelves of tiny books.


The detailing in this bedroom made it our favourite! With blue laced wallpapers, opulent chandeliers, lace linen and wooden furniture, this is one of the 29 bedrooms.


Can you imagine, this table with champagne, a bucket of ice and two glasses was placed on the lace linens on one of the beds in one of the bedrooms?!


A wooden modelled horse finds itself in one of the pretty rooms.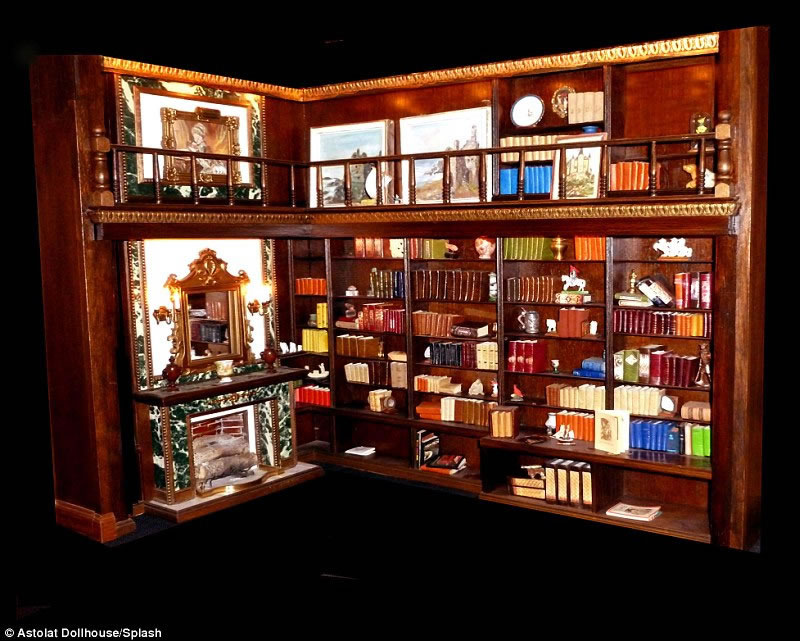 This is a standalone shot of the library, which has a marble wood fire, gold framed mirror, and tomes lining the shelves
[Via – Dailymail]