What started out as a brand catering to skaters and youth is now a powerhouse in the world of high fashion and luxury. As a brand, Supreme has come a long way and now French auction house Artcurial is exploring their growth through an auction that features items chosen from every stage of the brand's history. The auction was titled C.R.E.A.M. which stands for Cash Rules Everything Around Me.

"The idea of the auction is to paint a landscape of three decades starting in the late 1980s. The first decade was when street artists, skateboarders and DJ's were experimenting [with art] without the idea of doing it for money, the next decade was when it became a business and the third one was the final step when it turned into a cash-out decade," said Fabien Naudan Vice Chairman of Artcurial who personally purchased each item in the collection.
The auction is now over, but we've rounded up some of our favorite items from the auction lot and the jaw-dropping prices that they sold for. While multiple items from some collaborative collections were available, we chose one item per collab.


7. Spalding x Supreme Basket Ball – $10,547
Featuring the slogan, Each One Teach One, this full grain leather basketball from 2007, features Supreme's Red/White color combination. Similar basketballs created as part of a 1994 collaboration between Spalding and Supreme have recently resurfaced online for over double the price that this item brought in.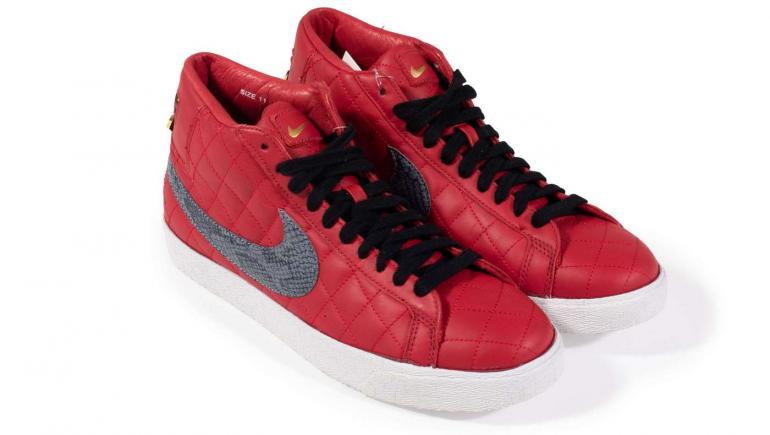 6. Nike SB x Supreme Blazer in Varsity Red- $2,171
These 2006 sneakers were part of a collaboration that featured Nike's Blazer sneakers in three colorways: Black, Varsity Red, and Sail. Details on these sneakers include the quilting and the python skin Swoosh.


5. Everlast x Supreme Lights Out Punching Bag – $24,041
This punching bag came out in 2016 as part of a collaboration with Everlast. It briefly retailed for around $550 before hitting the resale market for astronomical sums, not unlike the $24,000 it fetched at auction.


4. Supreme x Damien Hirst Set of 5 Dots skateboards – $12,408
Damien Hirst's signature dots found their way onto these Supreme skateboards back in 2009. These boards are among the few Supreme products that don't bear that signature red and white color combination.

3. Fender x Supreme Stratocaster Guitar – $6,204
2017's Fender x Supreme white guitar sold with its original case for a pretty penny considering that just last year it was retailing for around $2000. It's not subtle at all, with its white surface and red supreme logo, but who has ever purchased something from Supreme hoping to be subtle?


2. KAWS x Supreme 4' Companion (black) – $96,164
Part of a 2007 collaboration, this 4 foot vinyl toy is stamped with the artist's name and was sold with its original numbered box. As KAWS becomes an ever more covetable artist, his "companions" will probably get pricier and pricier.


1. Louis Vuitton x Supreme Trunk – $105,470
The partnership between Louis Vuitton and Supreme resulted in one of the most hotly anticipated collections of 2017. This was the collection that inspired everything from Ferrari's to coffins. Even Beyonce was spotted carrying an LV x Supreme pouch! This trunk was the standout piece of the collection and was originally priced at $68,500.