If you have drooled over the first ten picks of best of luxury in 2012 then take a look at ten more luxe news more from the world of LUXURYLAUNCHES –



Solid gold bra set with diamonds is selling for $1 million in the U.S.
Dazzling with 750 grams of 18 carat gold and 501.46 Carats multi-colored diamonds, this unique solid gold bra set is designed with precious gemstones to dress up a lady's most precious assets. Sporting a million dollar tag, it was made by Anthony Aubry at the Birmingham Estate and Jewelry Buyers.


Our pick of exclusive watches from the Circle of Time event

Bulgari, Hublot, Jaeger-Le Coultre, Parmigiani, and Ulysse Nardin spread out a spectacular Haute Horlogerie collection at the BaselWorld show of India, The Circle of Time. For the first time, Indian watch enthusiasts were treated to the latest, finest, and limited edition creations from this five leading luxury watch brands under one roof. Could you take a look at our picks from the event?

The world's most expensive cell phone case is unveiled in London
Offered for £189,000 ($302,570), the world's most expensive iPhone case was launched at Kensington Roof Gardens and ornamented with 18 carat rose gold and rare black, pink and white diamonds.


Giant Chanel bag balanced between hula-hoops at Paris Fashion Week

Instead of twirling hula hoops around his waist, Karl Lagerfeld put it to a better use by rolling out an oversized white Chanel quilted bag, artfully balanced between two black hula-hoops. Chanel's giant and mini hula hoop bags debuted at the brand's SS '13 show at Paris Fashion Week.


The world's most expensive spray tan with real diamonds comes to Selfridges
The limited edition special fake tan spray comes with real diamonds and was up at Selfridges stores for £200 ($320).

Leica SPO-Telyt-R 1:5.6/1600mm is the world's most expensive camera lens
The Leica SPO lens is not only the latest and the most expensive camera lens but it is also the longest, biggest and heaviest camera lens to be manufactured ever. Commissioned by Sheikh Saud Bin Mohammed Al-Thani of Qatar, the Leica SPO-Telyt with R 1:5.6/1600mm lens is priced over $2 million.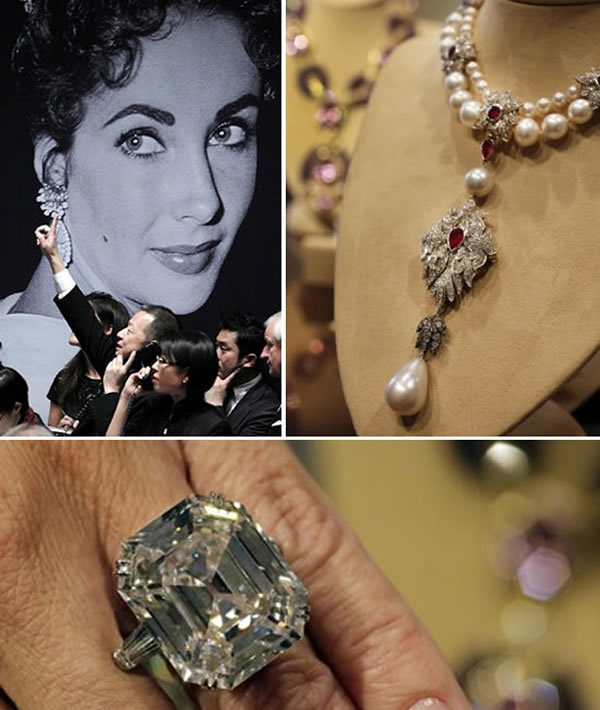 Elizabeth Taylor's collection sets a world record for most valuable private collection of jewels sold at auction
Auction of late Elizabeth Taylor's jewelry, fashion, decorative arts and film memorabilia at Christie's New York set a world record for the most valuable sale of jewelry in auction history. The collection was expected to fetch $30 million but finally the auction ended on a high total of $115,932,000 which is almost four times more then estimated. Christie's reported that $156,756,576 was the combined total of the auction.


Harrods offers the world's most expensive coffee
Priced between $225 – $11,000, Terra Nera, the world's best coffee is packed in solid Britannia sterling silver and 24-carat gold-plated sack. Offered at Harrods, it originates from Quechua. The most expensive coffee can be brewed from coffee cherries which are excreted by civet palm cats.

Bvlgari Hotels and Residences London
Bvlgari opened it's first hotel in London with 85 rooms and suites which are some of the largest in London. These are decked up with exclusive Bulgari furnishings, custom-made silk curtains based on their most famous jewelry designs, exquisite marbles and unique detailing.

The world's most expensive nail polish worth $250,000 is unveiled
The most expensive nail polish in the world was unveiled with 267-carats of black diamonds. Created by Los Angeles based luxury jeweler Azature, it sported a dazzling price tag of $250,000.
That's all from 2012, but we promise to jazz up 2013 with more opulence and luxury! We wish a sparkling and love-filled New Year to you all.