Capturing a moment in time is an art that not many of us can pull off well in spite of dedicated efforts. But in the world of photography, there are many skilled photographers who would want their work to be sold for a heavy sum. Ever wondered what the term heavy sum converts into and how many actually manage to obtain them? Here are the photos that have won the five highest bids as of yet.
1) Andreas Gursky's "99 Cent II Diptych" –
Recently sold for $3,340,456 at a Sotheby's auction in London, February 2007, 99 cents II, Diptych was not sold at a photography auction, but at a sale of contemporary art. That might suggest that how an artwork is sold plays an important role in defining how much it can sell for. It is for the third time that this record-breaking photograph has sold for more than $2 million. It also carries the tag of being the first photograph to be sold for more than $3 million. The description of the work in Sotheby's catalog compares it stylistically to Jackson Pollock's all-over technique, Sol Lewitt's repetitive grids, Donald Judd's stacks of items as well as Andy Warhol's thematic interest in consumer goods.
Rollover to know which other photographs made it to the lit sot top five……

2) Edward Steichen's "The Pond-Moonlight" –
Ouch, this one just missed the bar of $3 million by some thousands only. Nevertheless it bags the second rank on the list of 'Most Expensive Photographs Ever Sold' by selling for $2,928,000 at Sotheby's in New York in February, 2006. The picture shows moonlight between trees and reflecting on a pond, and appears to be in color (even though color photography was not introduced then). Steichen used layers of light-sensitive gum to create an impression of color. Only three prints exist, with the other two in museum collections.


3) Richard Prince's "Anonymous (Cowboy)" –
Way behind the first and the second, the third one on list was sold for $1,248,000 at Christie's in New York in November 2005. A shot of part of a Marlboro ad, Richard Prince's photograph of a cowboy was taken in 1989.


4) Joseph-Philibert Girault de Prangey's "Athènes, T[emple] de J[upiter] olympien pris de l'est"
This one was sold at Christie's in London for $922,488 in 2003.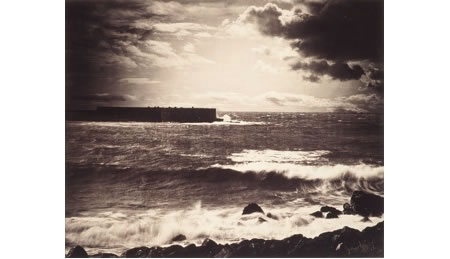 5) Gustave Le Gray's "The Great Wave, Sete"
This one was sold for $838,000 at Sotheby's in London in 1999.
Experts say that creating a million dollar photo often requires a lot more than getting the shot right. But what I gather from this is that in the art world, timing can be everything.
Source