With the rate at which the Dubai skyline is changing, don't be surprised if the city is known as the land with the most breathtaking architectural landmarks. The city which is home to the world's tallest building, the Burj Khalifa is all set to house another beauty in the vicinity of this tall structure. Christened the Magnolia Tower, it is a Deluxe Serviced Apartment Tower in the Burj Dubai district developed by Damac Properties. Designed by Sadar + Vuga, this residential tower would not just be another architectural beauty but also a functioning and energy-efficient residential building model at the beginning of the 21st century. Residents residing in this tower will get a beautiful view of the Burj Khalifa from their balconies and terraces.

A typical tower floor is designed in a characteristic blossom-like shape based on the postulates and modularity of trapezoid residential units. The smaller apartments and those that may be combined are positioned on the northern and northwestern sides, and there are two larger apartments on the eastern and western sides. The apartments are purposely designed in a hexagonal shape to provide maximum convenience and comfort and ensure flexibility within the units and the possibility of combining them. The tower is uniquely designed to deal with various weather conditions as well.
The tower is fully wrapped in a membrane that opens towards the north, where balconies are looking over at Burj Khalifa, and closes towards the south, where the risk of overheating is the highest. The membrane made of prefabricated panels wraps itself around the entire giving the structure a distinctive look.
A beautiful structure, it promises to be the perfect architectural complement to the Burj Khalifa.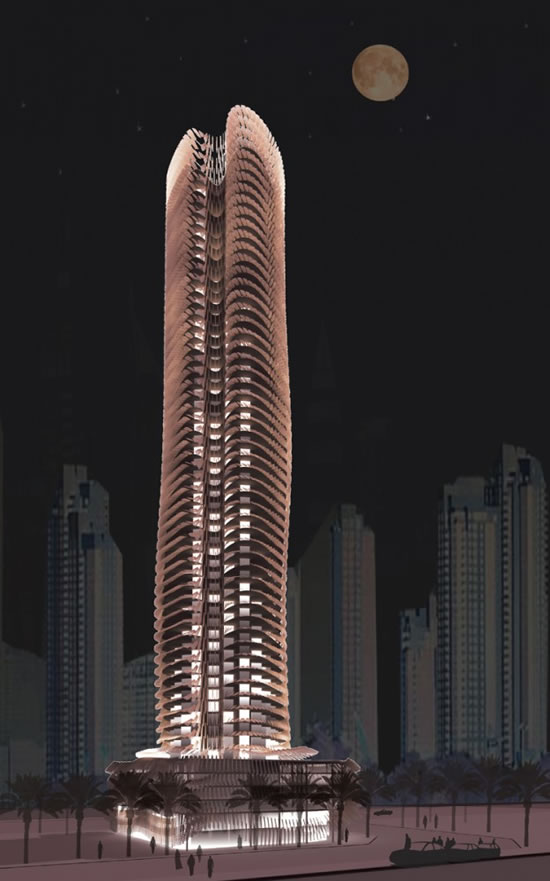 [Archdaily]