Being super-rich and super busy comes with its own demerits. You have all that jazz but no time to relax and unwind in the bounties that money can buy. That is exactly what has gone down with soccer-player David Beckham. The 36 year-old star has planned to do away with his two Bentleys, a BMW 645i Convertible, a Land Rover Range Rover Sport and Lamborghini Gallardo. He may even sell his three Harvey Davidson motorcycles. That is one hefty collection to sell off! His collection is amazing and is worth a fortune, more so because of Beckham A.K.A Goldenballs owns them!

David Beckham's collection is hardly used and kept in superb condition, but David sees little point in them just mothballing in the UK. Also, shipping them to America isn't practical in his view. He has sold several cars in the past including his Porsche 911 Carera which he sold for 136,000 pounds ($216,441) and BMW M3 worth 44,000 pounds ($70,000) which he sold for 90,000 pounds ($143,191).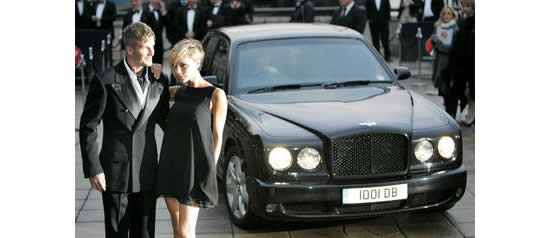 The whole worth of the latest lot that he plans to sell will fetch him over 500,000 pounds which is equivalent to $800,000.


[Autoguide]