One look at "America's most famous stripper" and you realize what vintage living is all about. Epitomizing a style that speaks all about nostalgia, she is the essence of true Old Hollywood charm. Dita Von Teese has been credited for pioneering the revival of the neo-burlesque bravura, and in doing so, she dresses head-to-toe vintage style, drives classic cars, and fills her home up with antiques.

With a plentiful collection of pin-up and burlesque memorabilia, her latest obsession is to shop through eBay and flea markets from where she has amassed head vases, and a collection of chalkware figurines like ballerinas and harlequins. With a weakness for sipping tea from Victorian tea sets, she has accumulated enough hats for her to have a separate chamber to house them.
pin-up:


Hats:


Victorian tea sets:


Her line of fragrance launched last year, as well as her line of stockings shows character of vintage influences. Not afraid to use her vintage collection on a daily basis, Dita's passion to accumulate vintage and antique goods speaks more about her love to be surrounded by beautiful things. She started buying old things as a teenager since she couldn't afford the latest offerings and this eventually led her to become savvier about the value of things.
Her collection also features a lot of obscure items including two big heart-shaped domes filled with birds, a bear rug, a monkey, and a full ostrich. She also has with her a corset that Betty Grable wore in a film "The Farmer Takes a Wife," and a shawl from Dorothy Lamour with a "Knitted with Love by Dorothy Lamour" label, along with a photo of her in her chair on set knitting the actual shawl.
Anything Lycra or with faux modern seams is vetoed. Dita's line of stockings is made on the exact machines that made them in the 1940s. At 15, she worked at a lingerie store and that helped her learn all about the history of lingerie through the decades, satisfying an omni-present obsession for lingerie.
As a burlesque performer, Von Teese has taken inspiration from the likes of Gypsy Rose Lee. With a career lasting for more than 2 decades, she has been able to admire what makes a dancer an individual, whether it's really raunchy or tame. Elegance in her opinion has nothing to do with "how much" is shown, but far more to do with the way one presents oneself.
Von Teese understands the true value of a vintage car. She can buy one, drive it around, and when the time comes, she can sell it for the same cost, or sometimes even more if the car has been featured in a shoot. She drives a 1953 Cadillac "Steel Xanax" and in the past has owned classics like the 1939 Chrysler New Yorker, 1965 Jaguar S-Type, and a 1939 Packard, and a 1946 Ford Super Deluxe convertible.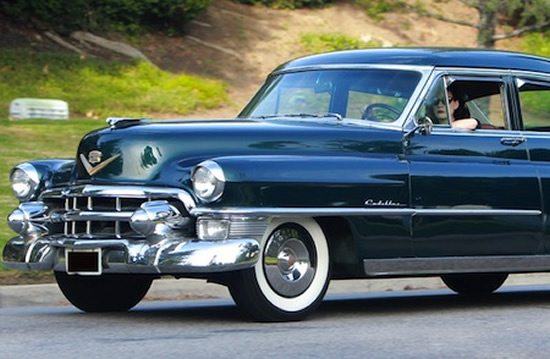 With a career that is clearly shaped around her fascination for nostalgia, Von Teese, is constantly putting an effort to offer products at a more attainable cost. She fell in love with vintage at a time when she couldn't afford something new, and so she is constantly searching for something that looks vintage and expensive when it actually isn't.
And for the finishing touch, Von Teese, the performer, author, and businesswoman will be releasing her third book, a retro beauty guide that goes perfectly with her line of cosmetics.