Hollywood's toughie, Sylvester Stallone is known not just for his brawn but for his brains as well. The celebrated celeb has proved his talent not just in front of the camera but behind as well (he is the brain behind the scripts of the famous Rocky and Rambo movies) and is one of the most noted filmmakers today. An actor, a scriptwriter, and director, this guy has definitely done it all and excelled at it as well. The star was recently felicitated for his work as a filmmaker. Sylvester was awarded the "Jaeger- LeCoultre Glory to the Filmmaker Award," the prize which has been recently instituted by the Venice International Film Festival and organized in collaboration with Jaeger-LeCoultre and is dedicated to an artist who has left his mark in contemporary cinema.

Sylvester Stallone received the award on September 12 in the Sala Grande of the Palazzo del Cinema on the Lido during the closing ceremony of the 66th Venice International Film Festival. During the ceremony, audiences were treated to the world premiere of The Expendables, the latest movie directed by, written by, and starring Sylvester Stallone. There was also a special screening of Rambo – Sylvester Stallone cuts director.
About the award the macho man had this to say, "Being honored at the Venice Film Festival is something I have always hoped would become a reality and now that it's actually happened it's been well worth the wait".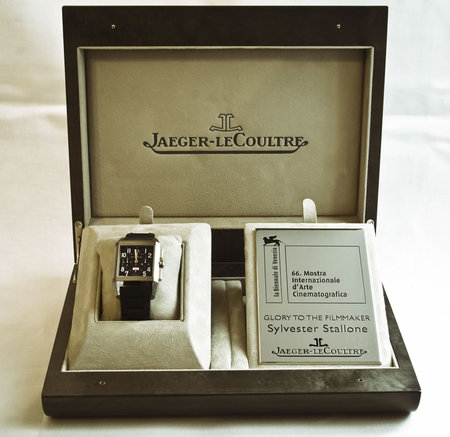 [Timezone]