An unusual golden cabinet has been created along the theme of polarity by the Slovakian artist Ivan Venkov. The statement he wishes to make is one of exploitation. The piece is of a young black deer standing on its front legs in a running motion. Its body is cut in half, and its end has an ornate golden drill that makes up a golden cabinet emerging from its destroyed body. This deer's face and expression are eternal and almost accepting of the artificial parasite that resides inside its body. The golden allegorical cabinet represents the elements of mundane ravishment.
Roll over for stunning detailed images……

The machine is attached to an expensive-looking Fabergé egg and stands for ultimate luxury. A knob made of chrome has been designed in a thirteen spiral segment. This segment is further attached to an apple-shaped mount and glass pyramid. A beautiful golden drawer with black crystals is the center of this curious piece. The animal cabinet is surely nothing like anything you would have ever seen before. The artwork has an air of infinite quietness and a motion of endlessness. All in all, it is a piece that speaks out to the viewer and definitely stirs up emotions from deep within. It would certainly make a different Christmas present this year.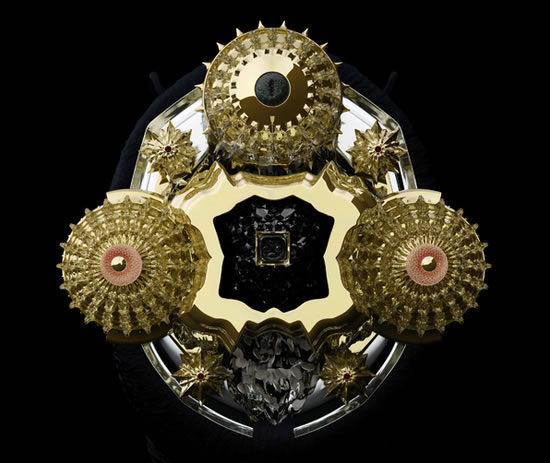 [Designcollector] Via – [BornRich]