Your house can never fall short of tech-savvy things to do it up with. From toilets and bathrooms to living rooms and bars, there is space for hi-tech luxury everywhere. And the guys at Mozayo seem to concur. They are out with a new interactive, multi-touch table Premium Series M32 that you can place not just in your study but also in your office. The 48″ X 30″ X 18″ table has been designed by MSTRF Design Studio and is said to be water-resistant, protecting it from accidental spills. The table features a 32" LCD screen with pixel dimensions of 1366×768 and supports 3D mapping.

It comes with Wi-Fi, Bluetooth, Ethernet, USB, Mic-in, and Audio-Out ports. The tech specs include an Intel i5 Quad Core 2400 Processor, Windows 7 Premium OS, 4GB DDR3 RAM, 250GB HDD, Integrated graphics card, and an 8X Slimline DVD-ROM drive.
If you think you need something bigger, check out the Professional Series M42-PRO instead. The 42" table, sports a 1080p HD LCD screen and is 54″ X 36″ X 18″ in size. The tech specs include a Intel i7 Quad Core 2600 Processor, Windows 7 Premium OS, 8GB DDR3 RAM, 500GB HDD and a 512MB AMD RADEON HD Graphics Card.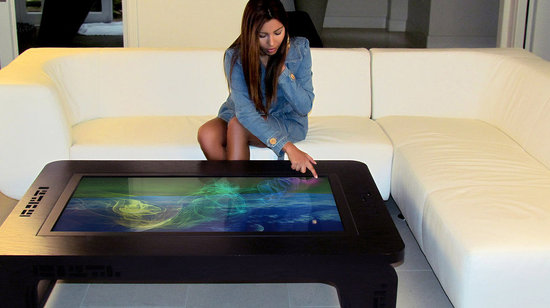 [Mozayo]