After covering the 10 most valuable brands of last year, we thought you might like an insight into some of the brand's names and their history. What's in a brand name, you might ask? Well, according to Forbes, the name not only gives its consumers status and style, but a lavish brand would also remind its customers that they get what they pay for, which is definitely grandeur and a higher standard of life. Here's a list of the 5 we thought relevant, as compiled by Vice's i-D Magazine.


Prada
Originally, Fratelli Prada (translated: Prada Brothers) started out as an Italian leather goods brand. The exact time at which 'Fratelli' was cut out from the brand name is unknown though the speculation is that it happened when one of the brother's daughter, Luisa Prada, took over from her father, though he was a firm believer that women have no role in business. The name could have started out as a new beginning and a turn in the tides for the fashion label.
Burberry
The brand came into existence in the mid 1800 and was named after the founder himself, Thomas Burberry. The brand decided to change its name to 'Burberrys' after customers referred to the store and its clothes as 'Burberrys of London'. They then added 'Prorsum' which means forward, to the trademark name after the brand got its Equestrian Knight logo in 1901. But in the late 20th century, they changed their marketing name back to the original 'Burberry' though they still have a line of clothing titled Burberry Prorsum that is the collection that is the most current and features at fashion shows. That has been some rollercoaster name ride!
Ralph Lauren
The famous America designer did name his label after him, only that was not his original name. Ralph Laruen was born as Ralph Lifshitz and changed his name at the ripe age of 16 because he was tired of being teased for having the word 'shit' in his name. We doubt that would have made a difference now; Ralph Lifshitz would still be on the list of top designers and the 155th richest person in the world.
Saint Laurent Paris
Yves Saint Laurent got its name from its found and has been a big brand in the fashion and lifestyle industry with its iconic logo, 'YSL'. Though it had its fair share of misery in the past, none of it compared to the outrage that the brand received when top designer for the fashion house, Hedi Slimane, decided to drop the 'Yves' and rename it as Saint Laurent Paris. Colette, a Parisian boutique was even reprimanded for selling 'Ain't Laurent without Yves' t-shirts and since then has had its privileges of selling the designer house's collection revoked. Though in his defense, Hedi did state that he took inspiration from one of Yves' previous collections – his ready-to-wear Saint Laurent Rive Gauche line. We guess that made the change acceptable, because the brand has, slowly but steadily, been regaining its former glory.
And now, for the one brand name/label that comes out on top; whether it's for the best or most ridiculous, we'll let you be the judge of that.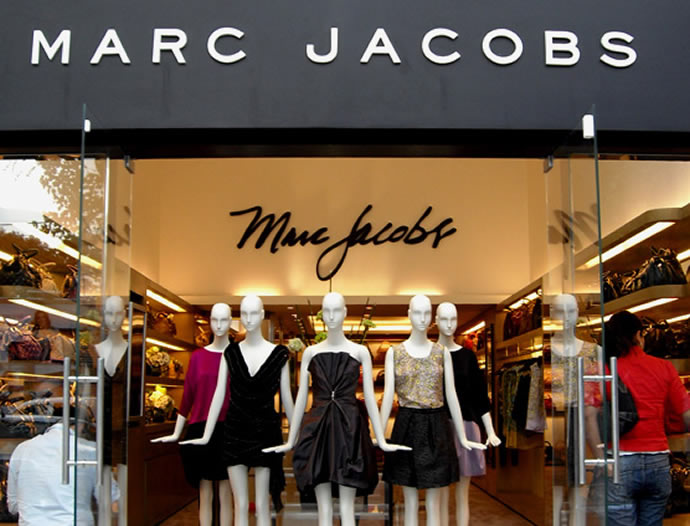 Marc Jacobs
Maybe he's obsessed with his name, or he thinks it is funny but Marc Jacobs definitely takes the cake for the ability to come up with interesting brand labels. He has two standard collections that he sells his creations under – 'Marc Jacobs' and 'Marc by Marc Jacobs'; the latter has recently been stylized as MbMJ. The reason he made it to this list and probably on top, is because of a tote that was titled 'Jacobs by Marc Jacobs for Marc by Marc Jacobs in Collaboration with Marc Jacobs for Marc by Marc Jacobs'.
Tongue twister, anyone?
[via – Vice-i-D]