The Louis Vuitton luggage range is the ultimate sign of luxury. Their customized trunks hold everything from tea sets, to surgical instruments, shoes, cigars with humidor and even a solar panel to charge up all the gadgets on the go. The Australian cricket team captain, Michael Clarke, or 'pup' as he's better known, has come together with Louis Vuitton to create a special order Cricket Trunk, the proceeds of which will benefit The Sydney Children's Hospital. Louis Vuitton's special order workshop on Paris' outskirts has created this one-of-a-kind sleek graphite canvas case that stands at a tall 140cm in height. This opulent trunk has space enough for bats, blazers, baggy green, and most importantly, a Bose sound system; after all, it is designed by a sportsman.

At the launch of this colossal trunk, Clarke explained that he was delighted to be raising money for such a wonderful cause. "I've really enjoyed not only learning a lot more about how things like this are made, but I've also enjoyed the steps of helping to design it as well. It's a little bit different to playing cricket, that's for sure," he said, laughing.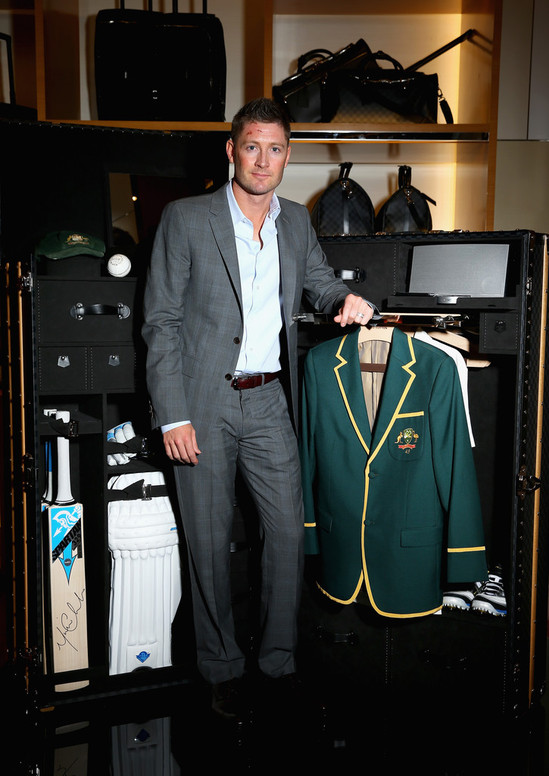 Christie's auction house's private sale of the trunk being handled will also include cricket memorabilia donated by Clarke. The estimated selling price of this one-of-a-kind trunk is $170,000. The Foundation's chief executive Adam Check said that he was excited about what the auction proceeds could mean for the Arts Program at the hospital.


[Vogue]