Menswear is going old school this season, and so should you. Sharp suiting, subtle accessories and loads of attitude are here to stay and while most men have enough suits and attitude to last a lifetime, the "accessories" requirement tends to trip up even the best dressers.

The must have accessory this season is a stylish hat. Of the wide variety of men's hats Fedoras are the ideal pick, they are easier to wear than other styles and go well with most outfits. Dean Martin has always sported one with his suits while more recently they have become a favorite of Justin Timberlake. But how do your wear this timeless style? Keep reading for tips on how to wear a Fedora and what to look for.
With a smart jacket
Take a cue from Bruno Mars who keeps it simple wearing his fedora with dressed down suit jacket. Notice how he sticks to neutral hues and keeps the styling simple. Pair your fedora with slacks or jeans and a dress jacket. You can roll up the hems of skinny, tapered pants and pair them with sneakers. Pop a light tan fedora on your head, and you'll be ready to stand out in mild weather.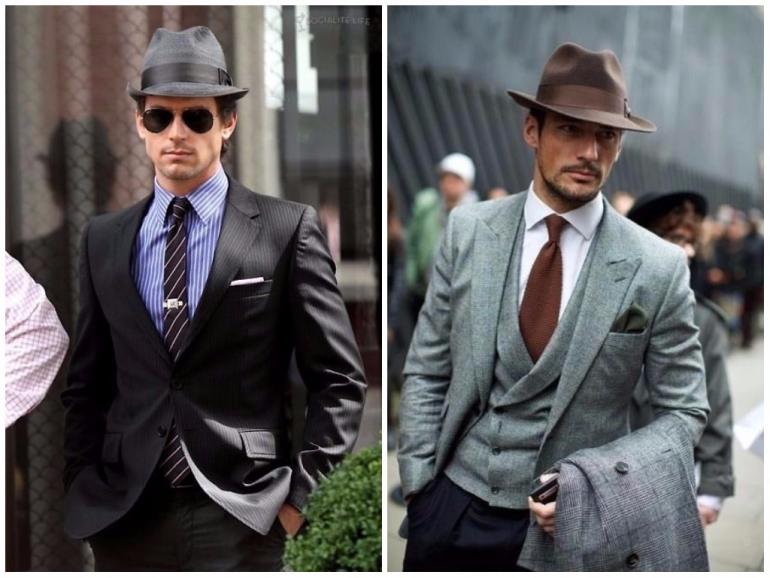 With a full suit
This look can venture into overkill easily so go easy on the other accessories. Matt Bomer has paired his toned down hat with a simple suit, while David Gandy's look is a little more elaborate with an overcoat, contrasting tie and vest. Both looks use few colors and contrasts. Stay away from pinstriped suits which will instantly take you into American Gangster territory.

Look for quality not quantity
Look for classic materials like high-quality wool and felt. These picks from fashionablehats.com are made from Australian wool and feature eye catching details. Some felted fedoras are lighter weight than others. Even if they're made out of light wool, you can get decent use out of them for most of the year.

Pick a lighter color
In the summer you may be tempted to opt for a straw or cotton hats, but don't skimp on quality. Just choose a lighter, more seasonally appropriate color instead. Pale blue, grey, and soft taupe and all great options.

Match Or Contrast
Your hat should either match your suit jacket almost perfectly or contrast with it distinctly. Don't wear a royal blue hat with a navy jacket. Instead, go with a completely different color, like light brown.
If you wear gray or black suits, stick with gray or black fedoras. Likewise, if your suits have a brown hue, get a tan or chocolate hat.

When In Doubt, Go Gray
Many people think that a black fedora is the most neutral option that will go with any look, but medium gray is more versatile. It can work with more colors and both casual and formal looks.
If you're wearing a bold suit with a funky print, you can get away with a jazzier hat. Wear a cream or black fedora when you're really trying to show off.
Should your wear your Fedora with a tux?
A tuxedo calls for a stylish white or black fedora. However, if your event takes you indoors, you should probably take off your hat. You might be able to get away with wearing a fedora in a restaurant. However, you should take cues from the location's atmosphere. If there is no place to hang your hat, you might be better off keeping it on.
No matter what kind of look you decide on, you have to find the perfect hat first! Fashionablehats.com offers a wide range to choose from and is a great place to start your hat search.