If you thought there aren't enough luxuries in the world for your tiny tot, fret not. Italian fashion house Fendi and baby goods giant Inglesina come to the rescue (yet again). After launching and retailing at Harrods last year, the two labels have once again combined fabric powers. They have created a limited-edition line of luxury strollers to mark thirty years of the Fendi legacy and honor the fifty-year-old foundation of Inglesina. And your toddler, of course. The Pequin stroller seeks to infuse class into a child's universe, much as the Fendi Pequin totes have in the wardrobes of luxe-loving women.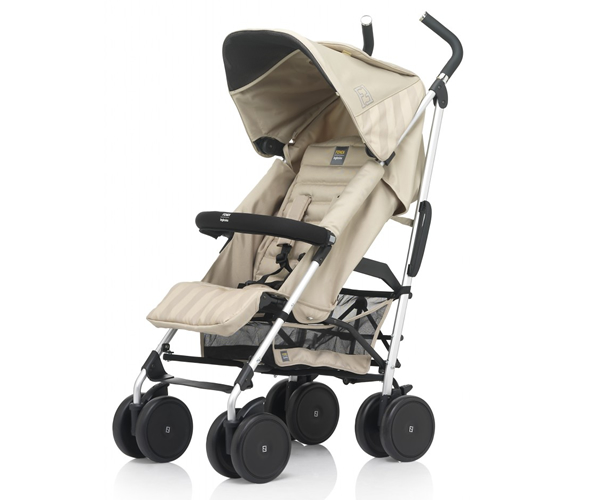 Joseph Hoffman's celebrated craftsmanship of the Fendi logo has been deconstructed and worked into the geometric pattern of the stroller. The brand's signature stripes display a fine aesthetic embedded in Pequin's decadent design that remains recognizable at first glance. To satisfy the vanity of the mother, even the wheels are personalized with the logo.

The fashionably functional Fendi-Inglesina creation comes with exquisite leather detailing that exudes utmost comfort and elegance. The two luxury labels pleasantly fuse to form a product that appeals to traditionalist tastes and posh palates alike.
The stroller exhibits not just style but also exceptional durability. Attention to stitching detail and a keen ergonomic eye render the padding soft and snug for the baby. The colors of the precious pram are two, black and beige. The Fendi-Inglesina Pequin stroller can clearly be called an Italian match made in baby-heaven.
[Via – Deluxeblog Via Cerca-Passeggini]