The festive season is upon us, and we suggest you spoil your loved ones silly with a heady dose of luxury and indulgence. And what better option than Italian luxury label Gucci, which has been the epitome of class, elegance, and style since its inception. We bring you an exciting list of holiday season gift items from the brand. Gucci's dark brown crocodile skin iPad case with dark chocolate leather trims is the perfect gift for the technology aficionados in your life. Priced at $2,900, this case boasts a strap with a hook-and-loop closure at the top. There is no doubt that this one is bound to be treasured by the man who loves technology and luxury.



2.Gucci's list of exotic skin iPad cases runs really long. For the luxury seeking women in your life, the buck stops with this lime green crocodile skin case, available for $5,200. With palladium hardware, a leather handle and 12 card slots, this one is a winner.

3.The brand's handbags have always been a hit with fashion-loving ladies, and your better half is sure to fall for this one. The New Bamboo crocodile top handle bag is a master class in impeccable style and timeless class. The freesia rose color lends it a feminine appeal, and this bag gives Gucci's heritage design a modern edge. And since you can't put a price tag on love, the $14,900 price should not be of any bother to you.

4.The 'Sofia Etoile' open-toe platforms boasting of strass embroidery will make the ladies in your life feel like a modern-day Cinderella. Waste no time in splurging on these $2,295 heels that will a hit gift.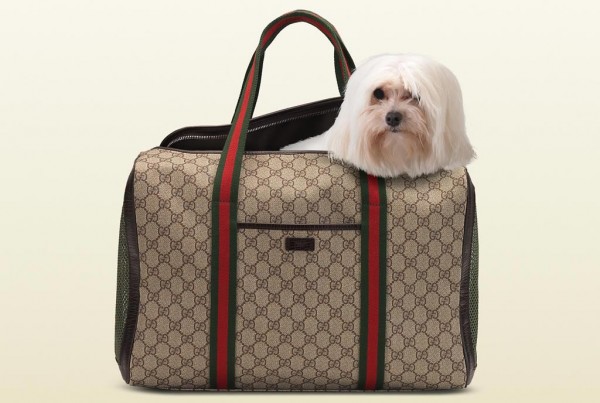 5.With its beige and ebony monogrammed dog bag, Gucci provides the perfect gift option for those who love their dogs. Adorned with the signature red/green/red web, your pooch will not be able to get enough of this $1,550 carrier.

6.This special edition '1921 collection' riding boots in dark green crocodile skin were part of the label's 90th anniversary celebration. Embellished with the Gucci crest detail, these $17,500 boots are a tale of opulence indeed.

7.Gucci woos kids as well as grownups with a cute teddy bear with movable limbs. Available in rose or white leather, the teddy can be yours for $950.
[Gucci]