Over decades, Louis Vuitton Monogram has revamped its collection from time to time while still keeping its legacy and individuality intact. In the latest Monogram Majestueux collection, the monogram canvas has been complemented with ostrich, python, lizard, grosgrain leathers spinning a unique combination of patterns and textures. The collection includes three pieces: an exquisite shoulder bag, a handy tote, and an ageless wallet. The Majestueux Shoulder Bag is an easy to carry and spacious leather bag. With a variety of leather, its shoulder strap is made from natural lizard leather, sides and key-holder in grosgrain leather, flaps and interior strap in ostrich, and its lining in goat leather. With two outer pockets, it has a scintillating golden brass metallic S-lock closure. It comes in two chic colors, burgundy and green, and available at Louis Vuitton stores for $5800.



Majestueux Tote is an astonishingly beautiful bag, crafted finely by combining natural lizard leather for its Toron handles, grosgrain leather for the sides, handle fastener and key holder, ostrich for the interior strap and flaps, and goat leather for the lining. It is available in two sizes; a small yet functional PM (5.9" X 9.8" X17.7") and a more spacious one sized MM (6.6"x11.4"x19.6"). PM is available in two colors, burgundy, and green, while MM only in burgundy. The totes can be purchased from Louis Vuitton Stores for $7200 and $8000 for the PM and GM.

The collection is incomplete without the Majestueux Wallet, an amalgamation of the Monogram canvas, lizard, ostrich, or python leather. Its USP is its bi-fold design revealing a showy exotic interior. It is a multi-functional wallet with 9 credit card slots,5 large flat pockets for receipts and bills, and separate compartments for notes and coins. One can choose from three colors; green, burgundy, and natural. It is available at Louis Vuitton stores for $4100.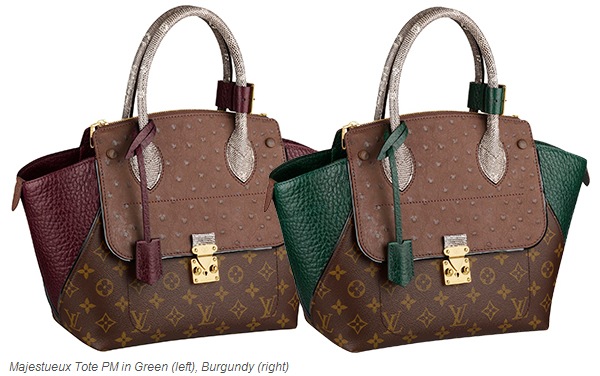 [Ilvoelv]