Louis Vuitton seems to be waking up to its growing customers in the East, namely India. In a bid to woo the Indian buyers, the famed luxury house has decided to celebrate India's most loved festival, Diwali. Yes, to mark this special Festival of Lights, all Louis Vuitton stores worldwide will be lit up with elegant displays of traditional Hindu motifs celebrating the festival. The special festivities will continue throughout November and December 2010. Louis Vuitton will use Diwali, a festival that celebrates the victory of good over evil and symbolizes light, joy, and new beginnings to unite all its stores worldwide. The window displays of all Louis Vuitton stores worldwide will feature a set-up specially conceived in India in collaboration with Indian artist Rajeev Sethi. The windows will display columns of trunks, specially crafted and hand-painted in India on Banana fiber paper, glow from the inside spreading the Festival of Lights' message. The theme of this festival will also inspire packaging and merchandising.

That is not all. Louis Vuitton will also re-edit forty pieces from the Spring/Summer 2010 and Fall/Winter 2010 collection using the fabric from authentic "vintage" saris sourced in the Indian cities of New Delhi, Bombay, Bangalore, Madras, and other cities. The delicate fabric will be used for two styles of skirts and shorts, three dress styles, and four other tops. Featuring beautiful traditional gold embroidery, these creations will be made in the Louis Vuitton ready-to-wear workshop in Paris. These limited edition ready-to-wear pieces will be sold exclusively (in size 38) in the Louis Vuitton Paris Montaigne store.
A new "Louis Vuitton fabric," designed by the Louis Vuitton studio featuring a mix of Monogram flowers and Indian traditional motifs, has also been specifically woven for this occasion by Indian craftsmen. These fabrics in two colors in cotton and silk will be converted by Louis Vuitton into three existing Louis Vuitton ready-to-wear pieces and a scarf.
A beautiful way to pay tribute to this festival, it is sure to delight every Indian.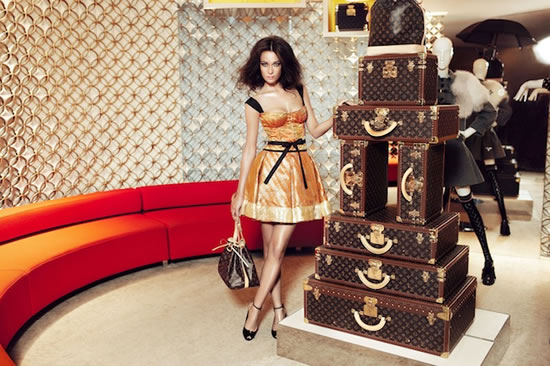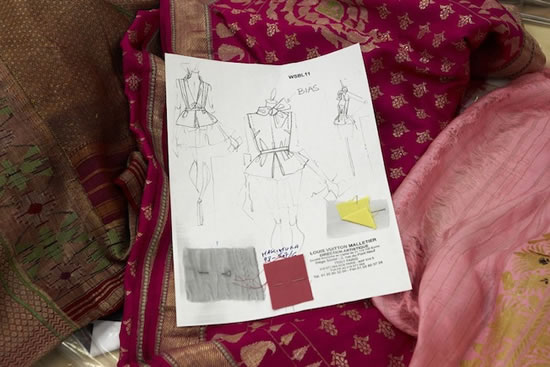 [iLvoelv]