Women are known to sit up straight every time a Louis Vuitton number makes its runway debut. Louis Vuitton is not one to ignore its admirers. And as a way to pay tribute to its female admirers and buyers, Louis Vuitton's Fall/Winter 2010 Collection celebrates the woman's female form with exquisite details in mind. Out of the many show-stopping pieces to hit the runway in this femme fatale collection was the Monogram Fleur de Jais bags. The Monogram Fleur de Jais collection consists of three pieces: the Manège, Speedy, and Carrousel. All three pieces flaunt a reinterpreted monogram canvas exquisitely embellished and sequined with an ornate floral pattern.

The Monogram Fleur de Jais Manège is the perfect accessory to glam up any formal outfit. The classy clutch is made from sequined Monogram canvas and features floral details. A grained black calfskin leather flap with leather-covered S-lock, and natural cowhide leather trimmings and wrist strap ensure this creation is a showstopper both on the runway and off it. The exquisite clutch's interior features a flat pocket and its lining is signed with the Louis Vuitton Inventeur plate. Measures 9.8″ x 5.5″ x 3.1″ in size the Manège is priced at $2130.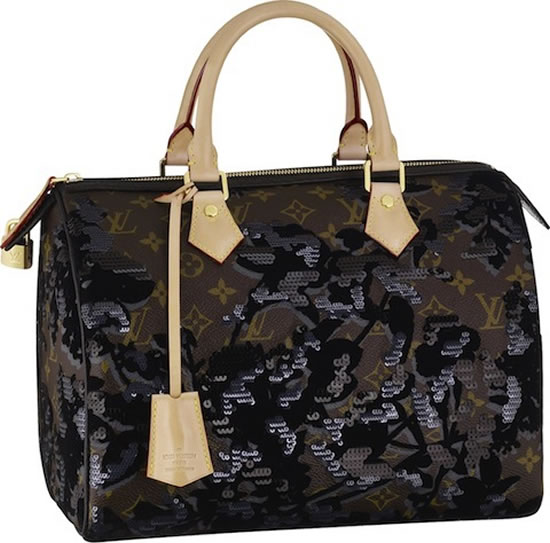 The iconic Speedy is my personal favorite in this Monogram Fleur de Jais line. Boasting a floral pattern in flock and sequin, this bag manages to take my breath away. The zipper and opening feature black calfskin leather, while the remaining trimmings + Toron handles and clochet is made from vachetta. The interior features an interior pocket, while the lining is signed with Louis Vuitton Inventeur signature. The Monogram Fleur de Jais Speedy 11.8″ x 8.3″ x 7.5″ in size and is priced at $2420.


The Carrousel in Monogram Fleur de Jais is the crème du jour of the collection. Flaunting a body made from the Monogram canvas with an exquisite floral pattern and sequin embroidery, this vintage style accessory definitely makes for an eye-catching accessory. The flap is made from grained black calfskin leather, with a single top handle made from vachetta. A gold S-lock secures the flap to the body while, like other bags, this bag's interior features a flat pocket and a lining signed with the Louis Vuitton Inventeur plate. Measuring 10.2″ x 6.7″ x 5.9" in size, this bag is priced at $2950.
An exquisite collection you can purchase your very own Monogram Fleur de Jais bag at any Louis Vuitton store.
[iLvoelv]