British fashion designer Julien Macdonald has created a lace mermaid-inspired wedding gown for the Disney fanatic brides. After all, the Disney classic The Little Mermaid was about Ariel living a "happily ever after" with her prince and so are the real-life weddings. The £4 million (approx. $6.50 million) opulent bridal gown encrusted with a real diamond and freshwater pearls is part of the designer's Spring/ Summer 2015 collection that was unveiled at the London Fashion Week.
The Welsh-born designer revealed his inspiration was a lovelorn mermaid. "She lives in a tropical sea with flowers and jumping fish and she lures a tattooed man to the bottom of the ocean," he was quoted as saying. "So the dresses are a mix of tattoos and flowers, with fabrics that really hold and accentuate the body."

"She takes the buried treasure and translates it into her dream ethereal wedding dress — diamonds, pearls, expense, lace, glamour.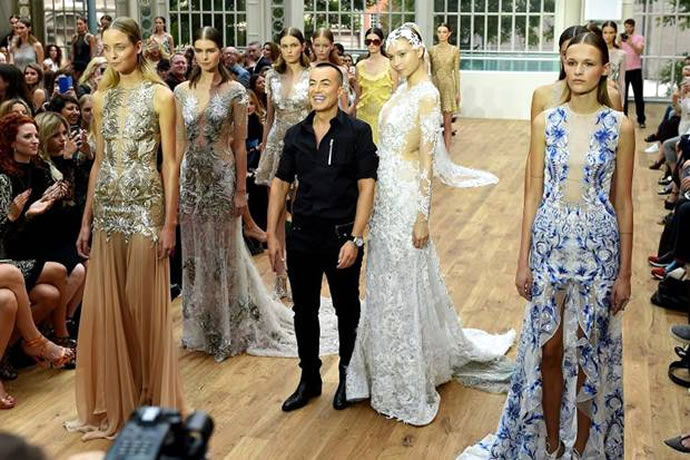 Julien Macdonald also showed a range of slim-fitting pencil dresses, ruffled swimsuits and baby doll shift dresses at the fashion show. The designer is one of 170 designers who will showcase their word during the London Fashion Week. The five-day event is estimated to attract more than £100 million (approx. $162 million) in orders.
[Via – Standard]