Montegrappa pens bring out culture in a unique manner. From celebrating Yuri Gagarin's mission to space to commemorating Muhammad Ali, Montegrappa has always managed to strike the right chords with its unique and elegant designs of fine writing instruments. With its entry into the Russian luxury sector, the company has announced a Russian exclusive collection dedicated to Mother Russia with the Cosmopolitan Moscow, Cosmopolitan St Petersburg, and Cosmopolitan Russia. Montegrappa has crafted each of the Cosmopolitan pens with resin and silver or resin and gold, making them available in rollerball or fountain pens with a piston filling system. In all the fountain pens, 18K gold nibs have carefully been fitted.

The St. Petersburg and Moscow pens pay tribute to the glorious Russian cities featuring monuments and symbols of the two cities, and silver is used with low relief engraving. Topping each cap is the logo of the city is represented. St Petersburg trims are in pearl grey resin, while Moscow trims are made of red resin. Montegrappa has created 1147 pieces of the Moscow pen with the number representing Moscow's first reference by Yuri Dolgorukiy. The silver version will comprise 550 fountain pens and 550 rollerballs, with 47 gold fountain pens and 47 gold rollerballs completing the edition. At the same time, Montegrappa has created 1703 pieces of St. Petersburg, celebrating the year in which Tsar Peter the Great founded the city. 703 silver fountain pens and 1000 silver rollerballs, as well as 73 gold fountain pens and 73 gold rollerballs, comprise this wonderful collection.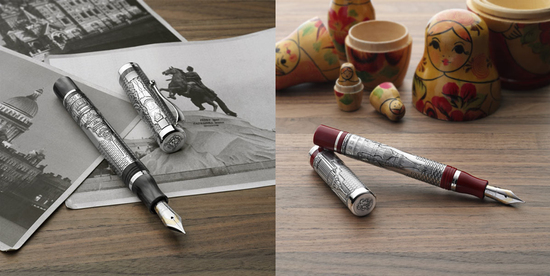 Completing this collection is the Cosmopolitan Russia that has used fret-working technique to highlight the juxtapose between the precious metal and blue resin. The map of Russia is represented on the barrel of the pen with the cap featuring the Coat of Arms engraved in low relief. Russia was Christianized in the year 988, and honoring that, the silver edition will consist of 900 fountain pens and 900 rollerballs, along with 88 gold fountain pens and 88 gold rollerballs.


The Montegrappa boutique in Moscow's Four Seasons hotel beautifully displayed these fine pieces of writing. The boutique is within walking distance from Moscow's globally renowned landmarks like the Red Square, the State Duma, and the Bolshoi Theatre.
[Montegrappa]