The House of Moynat needs no introduction and neither does "Happy" man William Pharrell. When these two power houses of talent decide to team up the result can only be unique. Last October William Pharrell visited the Moynat atelier and was quite taken in by the image of a train on a vintage trunk. No marks for guessing what followed.

Together they have come up with a fascinating collection of four bags including the ebony clutch, a hand tooled mini audiere and 2 pochettes in different sizes available in a variety of 7 colours. They are shaped like a vintage steam engine. The Train Bag and the Train Clutch as they are called are crafted from hand tooled acrylic resin or hand carved ebony.
Ramesh Nair- the Creative Director of Moynat says they have sourced a speciality atelier in Italy to carve each train which takes him about 3 days to complete. Every minute detail has been looked into the designing of these bags and no expenses spared. The result are the bags with the brass smokestack, side rods, a steam dome clasp et al.
The leather bags and silk scarves with train motifs will see the light of day at the Colette on 13th October 2014 and at the Moynat boutiques in London and Paris on 20th October 2014.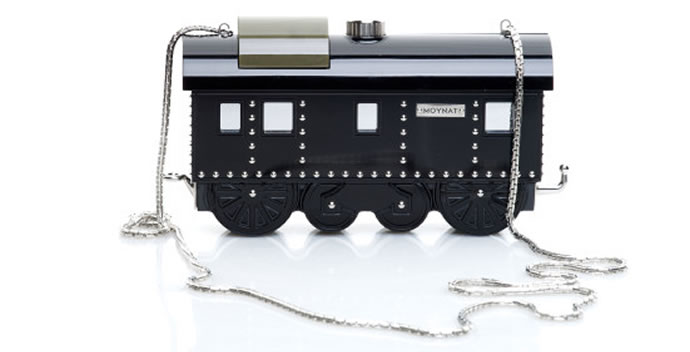 These limited edition pieces are going to be priced at about 10,000 euros or 13,000 dollars for the resin bags and the ebony bags will cost approximately 3,200 euros or 4000 dollars.
For those of you who are looking out for that one unique piece, here is your chance.
[Via – W-Magazine]