The 2012 Olympics have been in the news for all the wrong reasons, and here is probably another one. The true games stand for the true spirit of sportsmanship and how warring nations put aside their differences to play together as friends and not rivals. But off late, with lavish ceremonies, and all the politics involved, the games seem to lose focus slowly. Take, for instance, these "Olympic-inspired shoes." You can even walk in these babies after a formal party gets over, let alone go for a power walk. Designed by Aruna Seth, these stunning shoes feature black Swarovski wedges encrusted with more than 3,000 crystals and set in colors and rings inspired by the Olympic symbol.

That's not all; she has also created a set of "butterfly platform style shoes" in the medal hues of bronze, silver, and gold. These shoes have been priced at £3,000 ($4,200) and come handcrafted from Venice that Seth describes as the "best place to make women's shoes." These "British collector's item" already seems to have quite a demand, as they are on display at the London Harrods. Aruna Seth quoted: "We're delighted to see London hosting the London Olympics. The wedges inspired by the Olympic symbol representing each of the five continents of the world have been designed to unite shoe lovers internationally."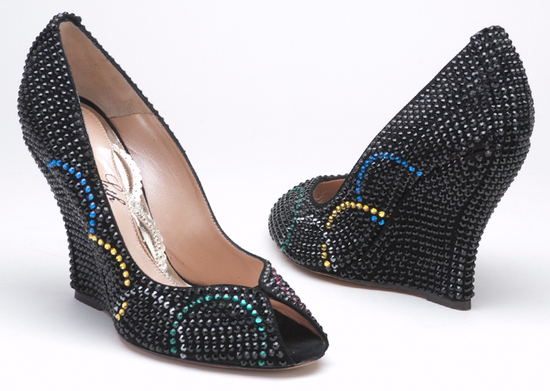 Among those interested are old royal customers, including Pippa Middleton, the Duchess of Cambridge's sister, Princess Beatrice and Princess Eugenie, and some A-list stars including Katherine Jenkins, Kate Hudson, Goldie Hawn and Katherine Heigl.


[Arunaseth]