After Chanel's historic cruise show in Cuba, Louis Vuitton chose the vibrant and colorful nation of Brazil to host their own Cruise 2017 show. Rio de Janeiro's Niteroi Contemporary Art Museum was the venue where the who's who of the fashion world descended, including LV's A-List faces Alicia Vikander and Jaden Smith, as well as a slew of celebs including Catherine Deneuve, Zendaya, Alessandra Ambrosio, and Isabeli Fontana.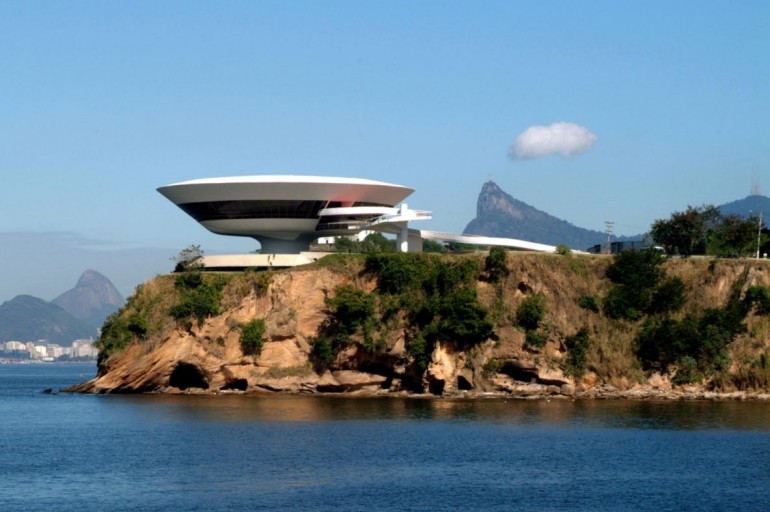 The museum stands on the edge of a cliff and offers a stunning backdrop of blue waters with rugged mountains in the distance.

The building's winding red ramp doubled as the catwalk where models flaunted sporty and colorful designs.

From the fabrics chosen to the silhouettes, there was a definite athleisure vibe to the collection.

The color was another keyword, with contrasting hues placed side by side for maximum impact.

The splashy prints were inspired by Brazil's favorite sport: soccer.

Ruffles and frills also made a comeback with this collection, placed at the hip and bust of otherwise simple shift style dresses.

There were few heeled shoes to be seen; they had been replaced by chunky laced up flip flops in stark white and black.

Louis Vuitton's favorite bag, the trunk, was reimagined as a boom box, paired with pointy-toed shoes.

We also loved this glossy black nod to good old backpacks.

Zendaya, Jayden Smith, and Catherine Deneuve were among the guests.

Speaking about the location and collection, Nicolas Ghesquière stated, "I so admire the power of Oscar Niemeyer's conviction. His vision, his radicality, his utopia even. Being able to show a fashion collection in such an architecturally powerful space is a sensorial experience. In Rio de Janeiro, what I saw most of all was movement and explosive energy that lives somewhere between modernism and tropicality. I was fascinated by the constant duality between nature and urbanism and the pictorial explosion it creates. For me, the main question was how to incorporate into my collection all these elements that are part of Brazilian culture, without forgetting that I am just a visitor who brings his own Parisian and French cultural references to the moment."
It looks like this year's cruise collections will take us on a tour of the world, and we can't wait to see the next destination!
[ Via : Fashionista ]