The second artistic instalment of Jeff Koons' and Louis Vuitton's Masters collection is here, with this one referencing more big names in art like Monet, Turner and Gauguin among others. The first wave of the collection saw a celebration of Da Vinci, Van Gogh, Fragonard, Rubens and Titian. The new collection once again brings famous works of art to the canvas of LV staple handbags like the Neverfull, Speedy and Keepall as well as other accessories and small leather goods.

Artist Edouard Manet's 1863 work Luncheon on the Grass was selected by Koons to represent him in this collection. "Manet has always been one of the most important artists to me. To work with the image of 'The Luncheon on the Grass' gave me the opportunity to emphasize the importance of artists giving it up to each other," he said in a statement.


As for the impressionist Monet, his 1916 painting "Water Lilies" is according to Koons, "one of the most beautiful, sensual images of nature." He added, "It is an image that plays between appearing concrete and at the same time breaking down and becoming completely ephemeral."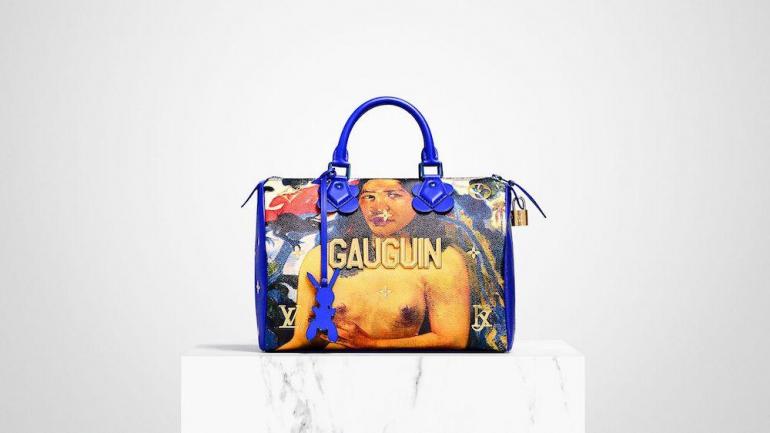 Tahiti-loving Paul Gauguin's "When Will You Marry?" might be the French artist's best known work these days, thanks to its record shattering $300 million price; but it was his 1892 work Delightful Land that was chosen for this project.


J.M.W Turner's "Ancient Rome" and Francois Boucher's "Reclining Girl" round up the series, with Lea Sedoux featured in the campaign. As with the previous collection, the bag's feature the LV monogram motif, the painter's names as well as Koons' initials along with the LV logo. Prices range from $585 for a bag charm to $4000 for the Keepall. Reactions to the collection have been mixed with many panning it for its cheap look while others commending the artistic spirit.
[Via:Louisvuitton]