We're all launches and trunkshows. But this time we're doing a little luxury jig, website hopping for the perfect trousseau. And what better place than TopWedding, a global online shop, which sells bridal gowns, bridal party dresses, special occasion dresses, groom wear, bridal accessories, reception decorations and favors. Phew!

Renowned for providing luxury wedding dresses at favorable prices to thousands of brides and grooms, TopWedding takes wedding shopping to all new avenues. With all its solutions online, the website is a blessing in lace disguise for all those brides-to-be dodging the "bridezilla" syndrome. This includes a 'standard', 15-20 days tailoring time as well as a 'rush' option taking 10-15 days of time for a decadent wedding gown.
Speaking of which, the portal houses a special product development team with thousands of products inventory. Arranged in neat rows are some of the best ivory sights you will have ever seen. What's better is that there is more (extravagance) than meets the eye, read: gowns in an array of colors. Everything from traditional white to pretty pink, red and champagne are on offer.
Still wondering why TopWedding? Not only is each product palpably portrayed in a description but a careful mention is made of the body types it favors. If you're still skeptical as we'd be, inching closer to D-day, there is a customization service to ensure the gown is as picture-perfect on order. We aren't just saying. We actually went online and picked a couple, for an imaginary wedding though. Still, if the day isn't all that imaginary for you anymore, go on. Take a look. Just to be sure.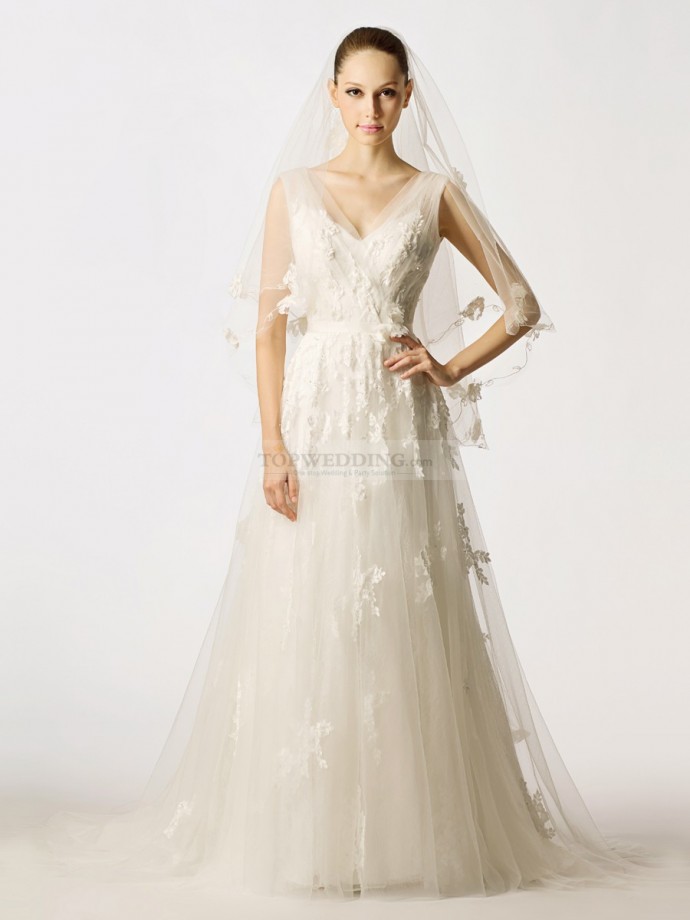 Sleeveless V Neck Flower And Beading Embellished Tulle A Line Wedding Dress
Tulle death do us part! This oh-so-delicate tulle outfit maintains the perfect balance of looks that'd crumble and looks that could kill, pretty much all a bride wants on her wedding day. Such harmony is attained with an A-line silhouette and shirring on the neat skirt combined with flower patterned applique detail seamed on the entire dress. Designed by MeiMei, the $349.99 dress includes a sash and a court to beautify it further.

Spaghetti Strapped Flower And Beading Embellished Tulle Bridal Gown
Taking forth trousseau tulle-ness is another appliqued applicant. The gown has a sweetheart neckline held by spaghetti straps and is in an A-line silhouette with shirring to come up with a good flare. Created with a court train for a regal appeal, the $368 dress is designed my MeiMei. Its air of bold combined with aristocratic deems it perfect for a chapel/church wedding. When? It's a spaghetti summer.

Batwing Inspired Top Featured Lace Bridal Gown With Backless Design
Why? Because Batwing. This vintage style ensemble is all bateau neckline and sequined lace. Yet another MeiMei design, it too comes in an array of shades and with a mention of fitting body shapes to give the bride the authentic appeal. It features an A-line skirt with a court train. With batwing inspired sleeves and sash at the natural waist, the $438 dress is nothing short of a display of classic bridal luxury.