Johnnie Walker in collaboration with Alfred Dunhill has unveiled the Blue Label Limited Edition Collection. The collection includes a Limited Edition Giftpack, which has been designed by Alfred Dunhill. The interiors of the bottle have been designed with the contours of a map. This exquisite 70cl glass bottle packs itself in the collection's signature palette, blue, along with Dunhill's signature 'Chassis' design, with gunmetal accents.

Also included in the collection is a special Travel Retail Exclusive Giftpack, which includes a Blue Label 1L bottle with both its interior and exterior featuring the map contours. Like the Limited Edition Giftpack, it has only an exception in the packaging, which includes copper finishing, inspired by the stills used in the whiskey distillation process.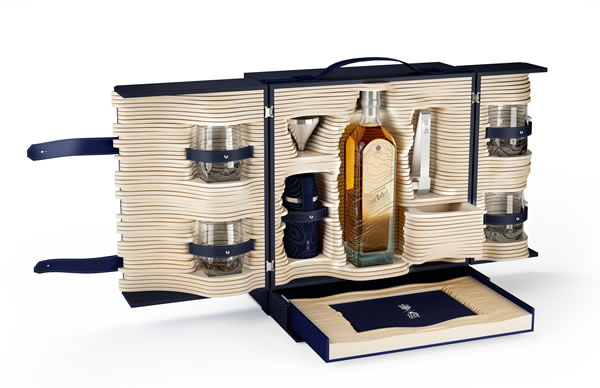 However so, the star highlight of the Blue Label Limited Edition Collection is its Limited Edition Traveller's Trunk, the design of which is based on Dunhill's classic vintage trunk. The sophisticated trunk in blue features leather straps and handles with Sam Brown stud finish and is offset by the contours of a map carved into the birch wood. The trunk has been built as a handy set that easily fits in the essentials one could require during travel: a limited edition bottle, four engraved crystal glasses, a whiskey funnel, a pair of ice tongs, and a Dunhill hunter flask. Unfortunately, only 500 pieces of the trunk would be produced for sale worldwide.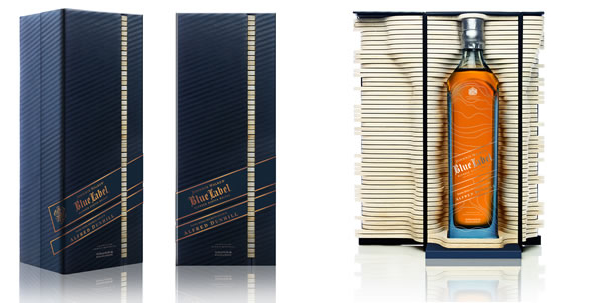 The scotch-whiskey brand connoisseur prides itself at creating such sought-after collections in collaboration with opulent designers. Its earlier stint had been with Porsche Design Studio, which too came to be a winner.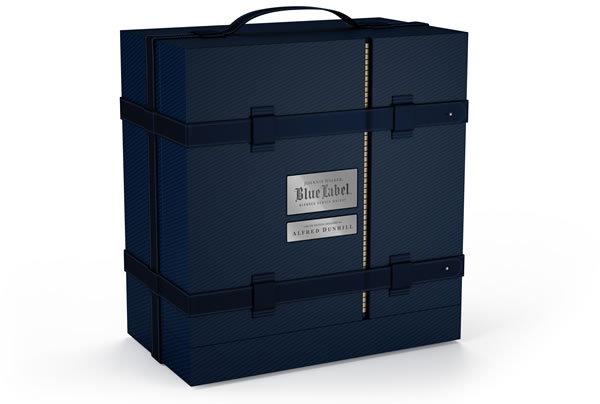 Johnnie Walker's timing to launch its Blue Label Limited Edition is also banged on with the global luxury market conditions, which has been predicted to rise to $400 billion by 2017, a major part of it driven by the liquor category.
[Via – Johnnie-Walker and Moodiereport]