Since 2010, tablet computers have surged in popularity. That's according to Wikipedia, who also stated that by March 2012, 31% of the U.S. population with Internet access have a tablet, constituting an extreme surge in sales and usage over just a two-year period. Business Insiders have also declared that 6% of the entire world population now owns a tablet, from statistics provided for the end of 2013.

Naturally, with this swell in popularity, a variety of brands, features, and designs now permeate the tablet computer market. Although variety is the spice of life, it's clearly easy to get lost in the multiplicity of the different platforms, their different brands, and device models. iPad, Kindle, Nook, Samsung tab… the choice spoils tablet users.
Android is Google's operating system, and is fast behind Apple's IOS platform in market share. The success of Android has largely been thanks to its app development and the devices on which users can access Google's platform. According to Wikipedia, Since May 2013, users of Google Android supported devices have installed over 48 billion apps from its store, called Google Play.
How can users therefore access the rapidly growing platform that is Android?
According to Wikipedia, tablet computer and smart phone users have had 1 billion Android devices activated by September 2013.
But which brand of devices are they choosing? Here are the 6 most popular Android based tablets available on the market today according to Localytics.
1. Acer Iconia Tab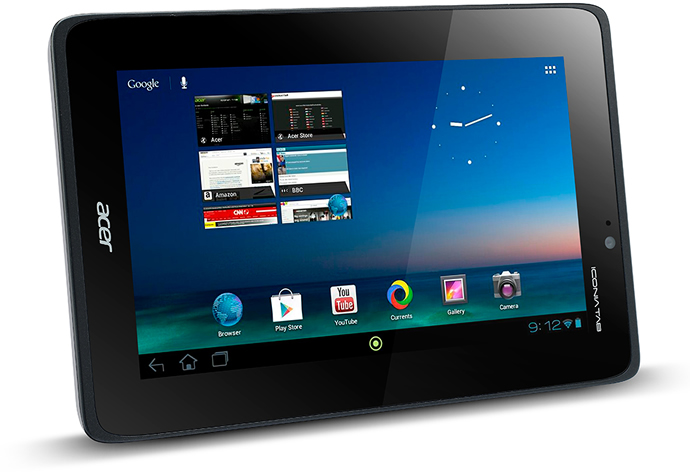 With just 0.5% of the market share, the Acer Iconia has the smallest market share on our list for Android tablets. According to Wikipedia, Acer first introduced their initial tablet computer model in 2011. As well as a wide variety of different tablet models, it also offers computer laptop converters.
2. Nook Tablet


Developed by Barnes and Noble, the American book retailer, its main focus of tablets has mainly been its simple and slick eReader devices as part of the Nook range. Perhaps its most notable feature is its innovative GlowLight. The Nook tablet has 4.1% of the Android tablet market, and has sold only to US markets until 2012.
3. Samsung Galaxy Tab 10.1


The Samsung Galaxy Tab 10.1 was developed and then introduced a year after Samsung's first intervention into the tablet computer market. In 2013, it had 5.6% of the Android market. It is just one of the many Samsung models that have gained sales numbers and so, dominating the market in terms of devices sold.
4. Samsung Galaxy Note 10.1


The first in the series of the Samsung's Note Series, the Samsung galaxy Note was developed from the Samsung Galaxy tab 10.1, and was first introduced in 2012, and was then further developed and launched in 2014. The Samsung galaxy Note 10.1 now has 6.8% of the market. The fame on its release was perhaps due to its central focus around the use of the stylus, which was named the S-Pen, providing solutions for designers and creative, as well as opening up to a more versatile use of a wider variety of Android apps.
5. Kindle Fire HD


Originally, with a stronger focus on eReaders with the introduction of the popular Kindle, it developed in Kindle Fire, and later the Kindle Fire HD, with greater usability and a wider range of features, moving Amazon's Kindle series into the tablet market. The HD version now has 11.2% of the tablet market.
6. Nexus 7


With Google running the Android platform for a variety of devices, it made sense that they would develop their own series of tablet computers. What we have as a result is the Nexus 7, which is the most popular tablet in the series developed by Google, partnered by a variety of different manufacturer partners. The Google Nexus 7 was developed in partnership with Asus, has been redeveloped into a second-generation model, and now has 14.3% of the global market.
7. Kindle Fire


We have seen how Amazon's Kindle Fire has brought it truly into the tablet market. With its partner the Kindle Fire HD, the Kindle Fire in its own right now has 15% of the market share of Android devices.
8. Samsung Galaxy Tab 2


Perhaps propelled by Samsung's ongoing prominence in the market for Android based products, the Samsung Galaxy tab 2 was released in 2012, and has maintained popularity since, despite the introduction of the Samsung Galaxy Note. Developing the model that goes back to its roots has proven to be successful in terms of sales.
Be sure to look out for new models and innovations developing in this currently hot market. Many of the top sellers have been widely criticized as well as praised in their reviews, providing the market with an exciting opportunity to continue to progress and innovate. It also provides consumers with the option to explore the variety of features and levels of quality and designs out there, to make decisions based on best fit, rather than popularity.