If Pokemon GO hasn't taken over your life yet, you must be living under a rock. Despite being launched only a short time ago, the augmented reality game has inspired hundreds of memes, articles, jokes, videos and think pieces. Turns out, even Russian jewelry company Caviar caught on to the pocket monster fixation! They have released a customized Pokemon GO inspired iPhone 6S for die hard fans of the addictive app.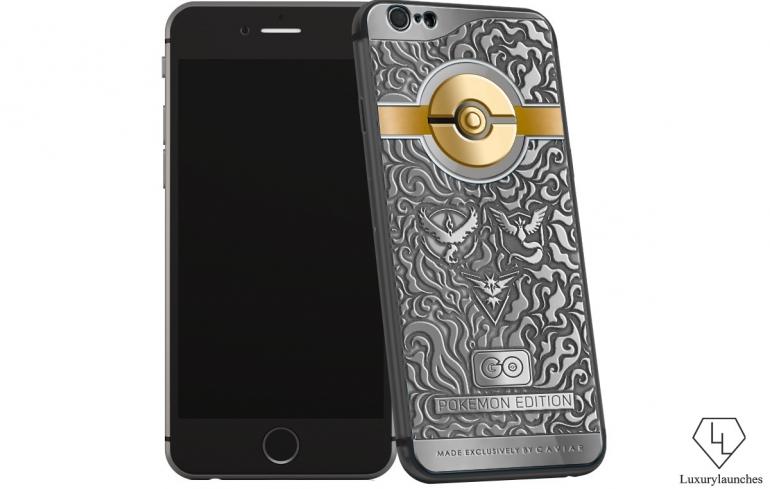 The Caviar Pokemon GO edition features a golden pokeball on the back that's surrounded by 3d intricate designs inspired by the same franchise on titanium. The engraved designs include symbols of Pokemon Go game commands and a stylized flame detail. Also engraved on the bottom are the words "GO", "Pokemon Edition" and of course, "Made Exclusively by Caviar". Apart from the design, the phone comes with a fully paid account with the maximum pack of game currency which amounts to about 14,500 pokecoins worth approximately $100.
The launch date for this phone is as yet unknown though the brand is supposedly planning to stage their launch to coincide with the Russian launch of the Pokemon GO game. In the spirit of exclusive luxury, only 77 of these iPhones will be created and only the most dedicated fans will own the unique phone. It will be priced at $2,700.
"Everyone is crazy about Pokemons, and we like them too! If there are any devotees of this game among our clients, then we have prepared the most ideal present for them – a phone, which not only has an exclusive, collection design but also will help you catch the rarest Pokemon, maybe even the most Ditto", said a representative for Caviar.