In my search for the perfect coffee maker, I came across the Saeco Xelsis coffee maker. This high-end automatic coffee machine features six personalized profiles so everyone can customize their own brew at the touch of a button. The amazing Xelsis has the ability to prepare nine different types of beverages, from espresso to weak black coffee, from cappuccino to latte, or simply hot water for a cup of tea. An easy-to-use large display, which identifies different profiles with icons such as a star, heart, and a four-leaf clover, lets you customize each drink according to the aroma, pre-infusion, temperature, length, and cream of the coffee, and quantity and creaminess of the milk. A silent operator, this machine makes no sound while grinding and brewing. The hermetic container with silicon seals ensures the beans' freshness while the Brita water filter eliminates impurities and softens the water.

Moreover, Saeco has even equipped this machine with a special carafe to whip the milk for your desired beverage, which can be removed easily for storage or while cleaning. The cleaning of this machine, too, is an easy task. The full front opens up, allowing access and removal of the coffee brewing unit without removing the cups and milk jug. The machine even boasts an automatic cleaning system for the milk circuit that uses steam at the end of each emulsion process. The Saeco Xelsis is available in three finishes- stainless steel, black or white unit.
An easy to operate machine, the Saeco Xelsis is expected to be available sometime this month with prices for the stainless steel finish unit set at €1,599 ($2,280) and that of the black or white unit set at €1,499 ($2,143).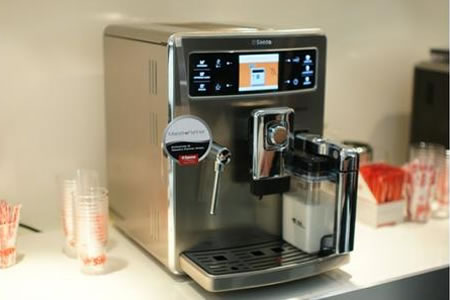 [Gizmag]