The market for uber-exclusive luxury mobile phones got a little more crowded and competitive last year when Swiss brand Savelli entered the niche with a set of 11 Android powered smartphones which were designed exclusively for women, as an exquisite piece of jewelry. With their elegant designs and premium build quality, the Savelli collection of handsets created a stir in the industry. The luxury smartphone maker has launched two brand new handsets created in collaboration with colored-gemstone miner Gemfields dubbed the 'Emerald Night' and the 'Emerald Insane'. Adorned with emeralds, these limited-edition phones are priced at $71,000 and $244,000 respectively and available exclusively at London department store Harrods' Fine Jewelry Room.



The Savelli Emerald Night and Emerald Insane smartphones are limited to only 27 pieces in total and are handcrafted using a mix of emerald, brilliant, and baguette cut emeralds to make the phones shine and sparkle. 'Savelli's key values are elegance & beautiful design, femininity and Swiss-made quality,' said Alessandro Savelli, founder and CEO of Savelli-Genève. The design of both the handsets is similar to other models by Savelli but Emerald Night smartphone is encrusted with 400 brilliant-cut emeralds or approximately 3 carats. The handset has an 18 carat rose gold body with an Ultra-Bombé sapphire crystal screen. Only 19 pieces of Savelli Emerald Night will be sold.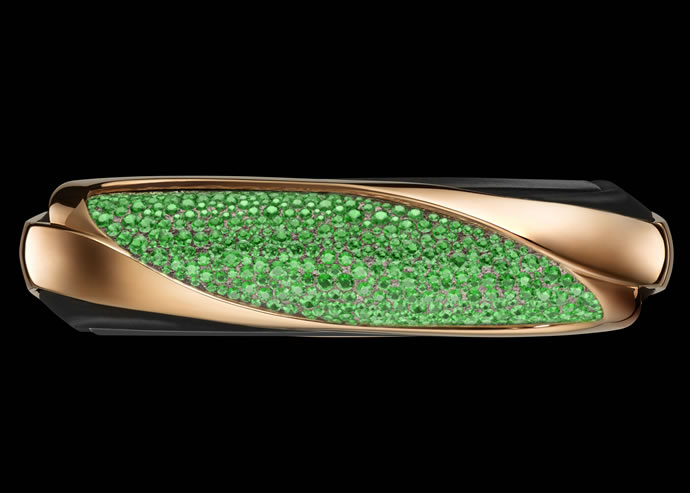 Savelli Emerald Insane includes baguette-cut emeralds and brilliant-cut diamonds and comes with an Ultra-Bombé sapphire crystal screen set in 18-carat white gold. The handset is encrusted with 75 or about 4.5 carats of emeralds and 900 or nearly 12.5 carats of diamonds. Only 8 pieces of the Savelli Emerald Insane will be available for sale. Each emerald stone on both the handsets are hand-selected and cut with precision. The cutting process of each emerald is done meticulously to enable sufficient depth of color as well as a consistent shade of green. I must admit, both the handsets look absolutely amazing.