Vertu is at it again and has launched a couple of new additions to their Signature Touch Lizard collection. The two new devices will add a little more panache to the existing Damson, Seaspray and Pure Navy Lizard handsets that were recently announced. The new devices will be available in two color options – Night Forest (dark green) and Dark Scarlet (woody chestnut red). They will be joining the other animals in the Signature Touch series which include the Alligator and Calf (used in the Jet Calf Edition).



A Vertu handset isn't just about a smartphone that looks, feels and exudes sophistication, it's about a lifestyle choice that brings with it their renowned collection of offerings that include a 24-hour global Concierge service, with their dedicated personal lifestyle managers at your disposal to help with bookings of various kinds be it for travel or shows. The services also provided users with VIP treatment in certain arenas and "reserved" sections of high society including access to private clubs et al. So it's not just a handset, but a status symbol as well.


The handsets themselves are quite the modern pieces of hardware featuring all the goodies one would expect from a high-end smartphone and then some. From the latest in Snapdragon's processing power to connectivity ranging from high-speed internet via LTE or Wi-Fi, to a full HD 4.7-inch display and a 13 MP rear camera (with dual LEDs for a flash) + a 2.1MP selfie camera up front, both of which have been designed and placed by photography experts Hasselblad. Audio experts Bang & Olufsen together with Dolby Digital Plus will ensure that your audio experience is as good as it can get. Finally, for security, these Vertu Signature Touch devices will ship with anti-virus and anti-theft protection from Kaspersky, with encrypted communications services from Silent Circle.


While some might find the concept of lizard-skin a little 'icky', for lack of a better description, those familiar with high-class concepts and fashion will know that this is just as premium and exclusive as it gets. The Vertu Signature Touch Lizard Collection gets its name from the Water Monitor Lizards found in Malaysia and Indonesia and are priced at about $11,330 (£7,200) a piece. Each of the Signature Touch devices are offered to customers with a Vertu exclusive Made to Order service which allows one to personalize their handset by having their initials embedded onto the device and also lets them choose what color, type of leather and rare metals are to be used for the device. The device would then be meticulously handcrafted in England by a single master craftsman before being shipped.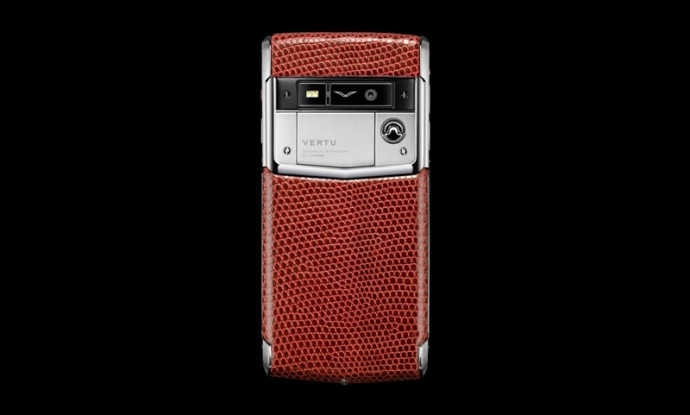 [Available at – Vertu]