While we are comforted at the fact that this new find will never take the place of the traditional Cotton Candy at the local fair or zoo, it's fascinating to know that even the humble cotton candy machine can be evolved into a state-of-the-art machine that spews out cotton candy at 60mph! That's right. It's going to be raining wisps of sugar-coated, soft candy with this new device called Whirlwind Candyfloss Spinner that uses a wind vortex to spin the stringy candy toward unsuspecting but all-too-happy adults.


Created by Lick Me I'm Delicious, noted food innovators, the Whirlwind consists of a dome with a spinning hot disk that pulls crystals and turns them into sugary, flossy strings. Once they're spun, a whirlwind shapes them into a hurricane and blows them out of the machine into a long train which will be caught by qualified Twizzler Magicians, twirling a stick to catch all the sugary goodness. Yes, it is expected to get messy and the company recommends it to be used outdoors or in large easily cleaned venues.


Why on earth would you get this messy, flashy device then? Well for starters all that flying candy is sure to be a hit among guests (age no bar) at your next party. The candy floss machine is the brainchild of the modern day, real-life, adult Willy Wonka, the founder of Lick Me I'm Delicious, Charlie Harrie Francis. Francis is committed to bring inventions like the Whirlwind and has previously created contraptions like floating drops of 80 per cent alcoholic drinks and Viagra ice cream with suggestive serving suggestions, of course. Keeping the adult customers in mind, there will be some adult-flavor choices for the Whirlwind, including banoffee pie, strawberries and cream and vanilla mocha.


The Whirlwind will be available to rent for private functions starting at 650 GBP. After-party, cleaning costs not included!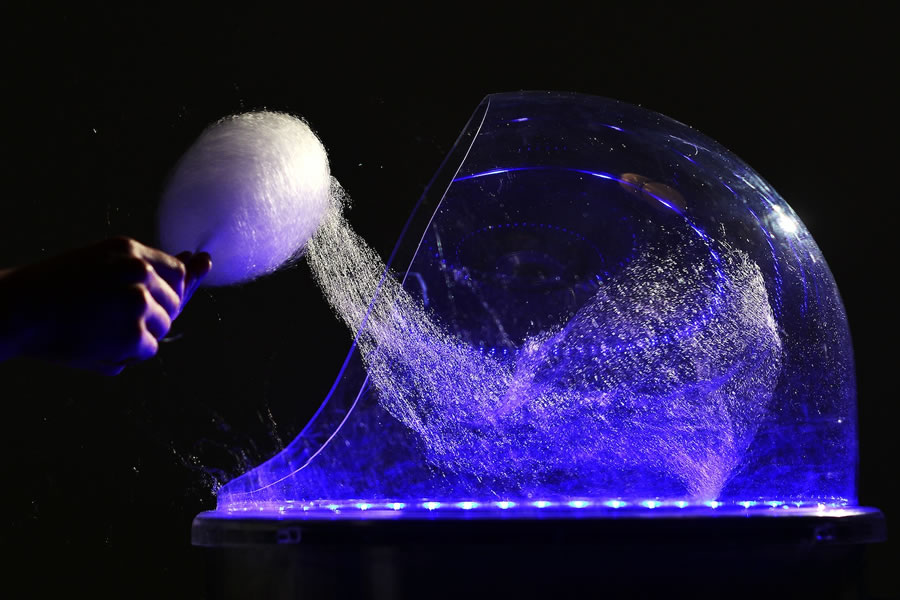 [More at : Lick Me I'm Delicious]