Bathtubs come in many shapes and sizes, tagged with haunting price tags. Red Diamondtub is too gaudy for my taste and why would I need a Bullet proof tub? But I certainly am dreaming about soaking in the Nirvana Bathtub. Shaped out of i-Crylic, a translucent acrylic layer, it features 360 LED lights that glow to mesmerize all. Such an illumination fitting renders chromotherapy too. Designed and manufactured by Bangkok based Bathroom Design, it is also a winner of Product Design Award at Red Dot 2009. And it not only boasts of looks to kill but also claims to save 60% water than its counterparts. Ergonomically shaped, it appears to be made out of a single piece. The control system is discreetly integrated beneath the bathtub to avoid any disturbance in its seamless form.

The user needs to slide his hand over the respective symbol, and the hand shower will move upwards. It also features an electronic tap and an automatic water fill/stop function. The rim displays the temperature. Also, the color light can be switched on or off according to the user's moods.
Time to switch off and freshen up with a shower for now!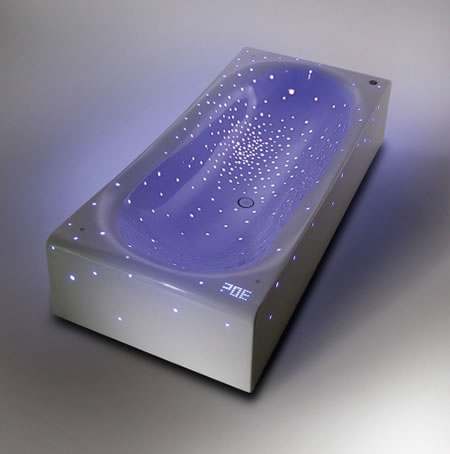 [Ladiesgadgets]