Celebrated British designer Tom Dixon recently introduced an impressive series of furniture that makes you want to revamp your office space too! Inspired by the notion of dropping the diminishing boundaries between workplace and home, the cult artist provides pieces that are functional, flexible as well as awe-inspiringly attractive!



Dixon's debut collection includes a minimalistic lamp and a workstation that make you reminisce on pieces from the classic Victorian era.

However, Dixon's main emphasis behind the furniture line is to extend the extraordinary comfort to a work place that is otherwise relatable only within the confines of home.

Luxurious Pieces in the series include a Boom desk light and the Slab School Desk. Dixon's existing range of desk accessories- 'Cube', has also been redecorated with the help of metal alloys.

The most noteworthy of the all is however the Boom Desk light, that transforms the ordinary lamp( typically used by draftsmen) into an elegant fixture with features like the round head and two slim stems that each pivot and move through three circle-shaped joints.

Another edition to the line that is equally magnificent is the slab school desk, inspired by the Victorian school table with a solid oak base that is softly rounded off at the edges.

Furthermore to add some aesthetic quirk, you can find an inkwell that has been repurposed for use as a cable management table along with grooves that are designed to hold pens.

The collection will also boast of a series of polished marble tops and metal bases, which will also be showcased at the grand Orgatec workplace design fair in Germany this fall. An entire set of the Cube stationery collection also forms part of the assortment- complete with a tape dispenser, a stapler, a desk tidy, and pens –all done in metallic zinc.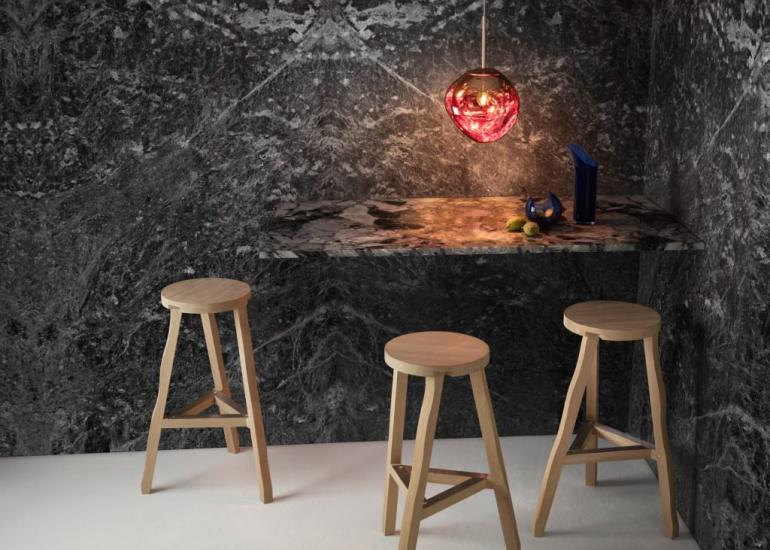 Dixon has earlier created co-working spaces inside a church in Clerkenwell, London while prototypes of his recent collection have also been displayed at the designer's Interchange co-working space, which opened earlier in the year.

Further, the designer also owns a new store to his fame in downtown Manahattan, where you can take a peek into his unique aesthetics. With office furniture so spectacular, workplace woes will soon be a thing of the past!
[ Via : Dezeen ]