Yorkshire based Taylor and Harrogate are usually in the business of crafting amazing teas and coffees. But this time, they've revealed a project that has a rather different message. The British brand has created a "bee hotel," which promotes the work of pollinating that bees do and brings attention to their role in developing the flavor of fruits and herbal teas.


The bee hotel closely resembles the very pink building in "The Grand Budapest Hotel," a Wes Anderson film.


The hotel's Spiced Apple reception.


The Rose Lemonade restaurant complete with pollen-filled plates.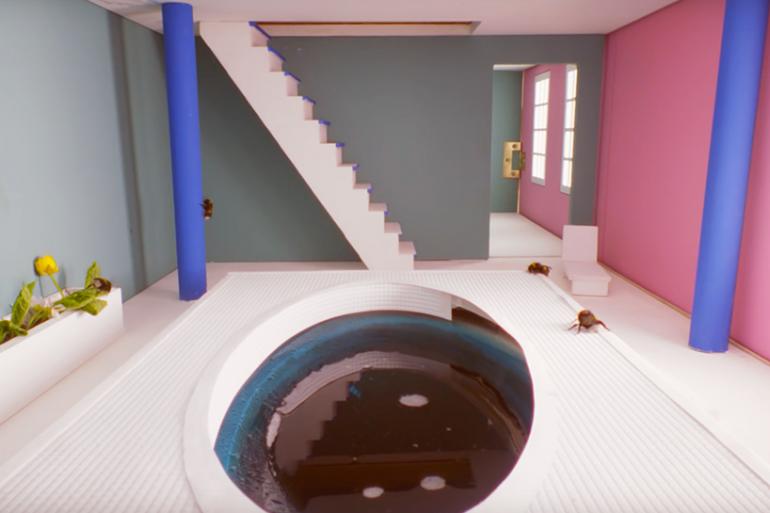 The Peppermint leaf swimming pool where bees can take a sweet dip.


The Sour Cherry bedroom complete with a guest.


Bees are so important in helping to provide great flavor, but less attention has been paid to show how urban areas can be made more pollinator-friendly,' said Kate Halloran of Taylors of Harrogate. 'The bee hotel aims to not only educate and entertain but also to inspire action. From the peppermint leaf gym for a complete wing work out, through to the luxury sweet rhubarb suite with its decadent rhubarb sugar water bath and UV disco, their every need will be taken care of.'


The hotel's Peppermint gym.


The hotel is made up of balsa wood and includes features like hollow tubes in the bedrooms, which offer bees a nesting space.
Taylor and Harrogate also added sugar-water baths and ultraviolet patterns based on scientific research that states bees would be tempted to come in for a rest.
The project was created in response to a British study that discovered that a wider variety of bees are thriving in UK cities than rural areas. Taylor and Harrogate also found in their own study that less than half of Brits surveyed had no idea about the important roles play in producing fruits and vegetables.
[ Via : Designboom ]