Finally At.mosphere opens up as the world's highest restaurant and we are back to feed our readers with more details about it. Located on the 122nd floor of the world's tallest building in Dubai, this restaurant allows diners to opt for a lounge and/or grill experience. The At.mosphere grill will offer fresh products, either grilled, broiled, or baked, along with an extensive beverage selection. The trendy lounge section has pushed its boundaries to serve a light lunch or an afternoon tea. However, at night the lounge stands true to its role and livens to complement the glam aura of Dubai. With room for more than 210 guests at 442 meters, it spreads out lavishly to cover a large arrival lobby, the main dining floor, private dining rooms, and display cooking stations. The place also boasts of a stunning beverage display and cellar.

Led by internationally renowned Executive Chef Dwayne Cheer and Director of Operations Gabriele Babini, At.mosphere reveals elegant interiors exclusively done to match the mood and the taste of the well-heeled diners.
Arabian Business reports that At.mosphere is charging a minimum of AED450 ($122) per head. Those wanting to book the luxury restaurant's private dining area will be expected to fork out at least AED650 ($176.9) per guest, while afternoon tea comes in at nearly $100 (AED350). For drinks and snacks in the lounge area, guests must spend AED200 ($54.45) per head.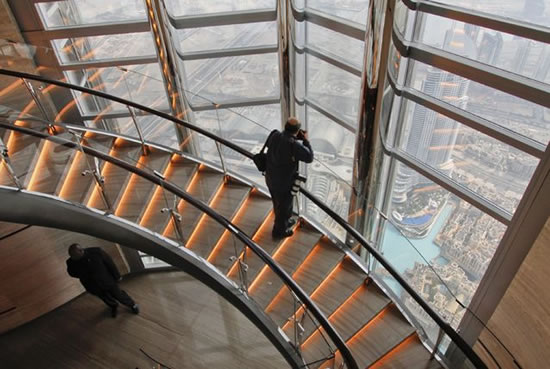 [PRNewswire And ArabianBusiness]