Making a mark in the hospitality space is Bulgari. After launching six hotels across the globe, the marquee has now set up an all-new property at 30 Avenue George V in Paris. Representing a culmination of Italian hospitality, the heritage of Bulgari, and the history of the City of Light, we're talking about the very elite Bulgari Hotel Paris.

It is designed by Italian studio Antonio Citterio Patricia Viel, in collaboration with French architectural firm Valode & Pistre and is a sight to behold. From black hand-lacquered walls, voluminous seating in the lounge, and in-room steamer trunk bars with opulent touches – the space is as elegant as it can get.

Further, it incorporates various elements inspired by the Bulgari handbag and jewelry, such as the etched serpents perched atop their oversized bathtubs and the lavish lobby designs. Commenting on it, architect Patricia Viel in a statement to Travel + Leisure, said, "Space and silence is what luxury clients want, and every Bulgari Hotel has always been designed with space in mind."
Despite its luxe make, the property comes with an innate sense of belongingness, one that is warm, cozy, and make you feel at home. To this, Viel added, "Paris needed a different hotel that was more contemporary luxury where you feel good, where you feel comfortable everywhere you go."
It comprises of 57 suites — including the soon-to-be-famous Bulgari Penthouse and 19 executive rooms that are designed to feel like a private residence to provide maximum class and comfort. Think velvet and silk lining the rooms, accompanied by thick herringbone-patterned carpeting across.
Most of the rooms also feature a private loggia overlooking Avenue George V or the internal garden that offers panoramic views of the city life. However, it's the Bulgari Penthouse that steals the show.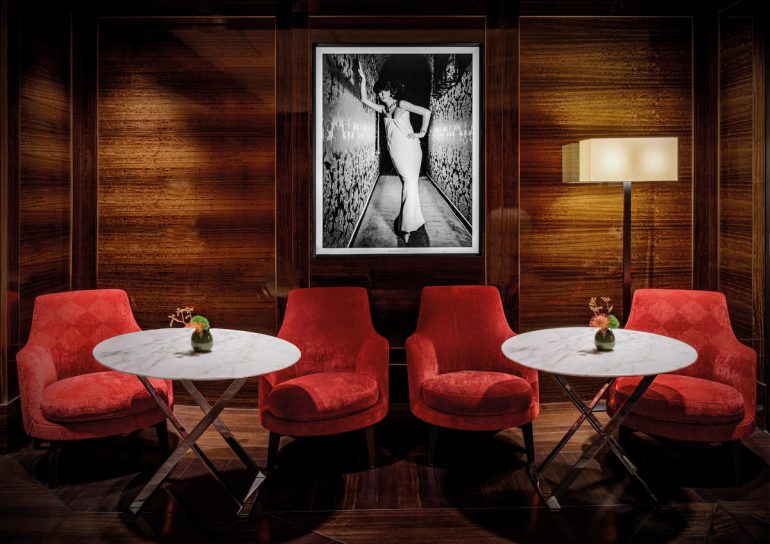 The wondrous Bulgari Penthouse:
Although visible from the street, the Bulgari penthouse is a private abode of all things luxe. Its floors are connected by a dual staircase, and each of them offers panoramic views of Paris, including the Eiffel Tower, that can be seen from the private rooftop garden.
It features floor-to-ceiling windows, 1,300 square feet of indoor space, and nearly 2,000 additional square feet of outdoor space. On the inside, a spectacle awaits the guests. As part of its enamored décor, one can find a gorgeous, handmade straw wall by Jean-Michael Frank and the main bathroom, appointed with polished marble, where one can take long leisurely baths and indulge in some much-needed relaxation.
Commenting on it, Silvio Ursini, executive vice president of Bulgari Hotels, said, "We come to the hotel business from the outside — we are jewelry makers — and to us, creating a hotel is just like making a piece of Bulgari jewelry."
He further added, "The hotel is full of Italian staff, and this should allow us to deliver a service which is—here in France they say décontracté," or relaxed. So, it's impeccable, without any of the stiffness or pompousness that sometimes happens over here."

All-in-all luxury awaits on offer:
In addition to the luxe accommodation, the hotel features an extensive wellness area boasting Paris' longest indoor (and underground) pool at just over 82 feet. The space spans over 4,300 square feet and includes a vitality pool, nine treatment rooms, hair and beauty areas, and a very well-equipped gym with plenty of space for warmups or outdoor workouts.
Further, the social areas offer lavish dining and bar options. They feature an elaborate crackling finish on the bar walls, to which, Ursini said, "Our inspiration [for the bar] was a music room that belonged to Yves Saint Laurent that was also treated with this finish."

Lastly, there's the on-site restaurant wherein chef Niko Romito's dishes out the best of delicacies. While every assortment served is special, it's the room service menu, like the blanquette de veau, that deserves special attention. The delightful food, of course, can be enjoyed with spirits like the Scognizzo, made with tequila, velvet falernum, artichoke syrup, kiwi extract, and jalapeño essence.
Sold to the grandeur of the Bulgari Hotel Paris? Proceed to book a classic room for $1,400 a night and the penthouse suite for $35,000 a night on the brand's official website.
[Via: LVMH]